Oath Keepers, Proud Boys, Gropyers, white supremacists, QAnon conspiracists and other extremists from at least 38 states played role in stoking violence
The Anti-Defamation League (ADL) has positively identified 212 of the estimated 800 individuals who are believed to have breached the U.S. Capitol on January 6, revealing a wide array of domestic extremists were among those who unleashed their fury on legislators and Capitol police, leading to five deaths and scores of injuries.
Of the 212 individuals identified by experts in ADL's Center of Extremism as having played a role in the Capitol insurrection, about one-quarter (52) have direct ties to known right-wing extremist groups, including the Oath Keepers (6 people) Proud Boys (17), Groypers and other white supremacists (10), and the QAnon conspiracy theory (14).
The remaining 75 percent are considered part of the new pro-Trump extremist movement, a decentralized but enthusiastic faction made of self-described "patriots" who continue to pledge their fidelity to the former president.
"Our analysis makes clear that the violence on the capitol was aided and abetted by far-right domestic extremists from 38 states whose views represent some of the most extreme elements of our society," said Jonathan A. Greenblatt, ADL CEO. "And in the aftermath of their violent action at the Capitol, the chatter we are now seeing from these extremists shows that they still animated and looking toward the next fight."
According to the latest data from ADL's Center on Extremism, extremists from at least 38 states and the District of Columbia were represented among the insurrectionists.
The country's five most populous states (Texas, California, New York, Florida and Pennsylvania) accounted for 41% of the total individuals ADL has identified in the attack, with the most hailing from California and Texas.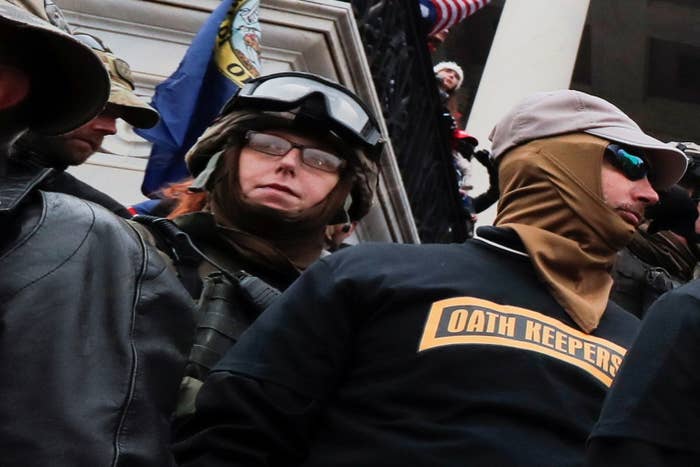 Roughly 160 of those identified by ADL were not roused to violent action on January 6 by the leader of any one extremist group.
They are the product of weeks and months and years of incitement, lies and repeated conspiracy theories, many of which were propagated or openly embraced by former President Donald Trump.
They are a new breed of extremist, one foundationally animated by devotion to President Trump, placing him over country and/or party.
For more information and an analysis on extremist chatter since the Capitol attack, see ADL's latest blog entry here.
Trump, who has provided extremists the gift of a narrative that will carry them through the next four years: a story about a stolen election, all thanks to the treasonous "left" and mainstream media, who are, as the narrative goes, suppressing the rights and voices of "real Americans."
Extremists are often animated by the angry and paranoid conviction that something sacred is being or has been taken away from them.  
This rhetoric has been ramping up for years as American society has become increasingly polarized. And that means what happened at the U.S. Capitol on January 6 was in some ways the most predictable incident of political violence in American history.
Anyone who had been paying attention to extremist activity across the country, or to the chorus of disinformation and hatred rampant across right wing media and its social media counterparts, could have expected it.
Most importantly, this deadly attack was not a surprise, because the President – and many of his supporters – incited it in broad daylight. 
Moreover, many of the people who were roused to violence that day are the product of weeks and months and years of similar incitement. They constitute a  new breed of extremist, one foundationally animated by devotion to President Trump, placing him over party or country.
They are living in an entire ecosphere of disinformation, lies and conspiracy theories, one fertilized by Alex Jones, QAnon, the President and his enablers, and many others.
Over the coming months and years, as they mingle with established extremists – including white supremacists, antigovernment extremists, antisemites and hardcore conspiracy theorists – these individuals could coalesce into a distinct and potent extremist movement in their own right. Alternatively, they could eventually add to the ranks of those other hateful causes.
---
Connect with NJTODAY.NET
Join NJTODAY.NET's free Email List to receive occasional updates delivered right to your email address!