Members of Malcolm X's family have made public what they described as a letter written by a deceased police officer stating that the New York Police Department and FBI were behind the 1965 killing of the famed American civil rights activist.
The letter was written by retired New York City Police Force officer Raymond Wood, a Black man who served as an undercover cop with the department throughout the Civil Rights Movement.
Wood admitted on his death bed to the role he played for the NYPD and the FBI in the murder of Malcolm X.
Malcolm X was a powerful orator who rose to prominence as the national spokesman of the Nation of Islam, an African-American Muslim group that espoused Black separatism.
He spent more than a decade with the group before becoming disillusioned and publicly breaking with it in 1964.
He moderated some of his earlier views on the benefits of racial separation.
He was killed at New York's Audubon Ballroom while preparing to deliver a speech. Three members of the Nation of Islam were convicted in the shooting.
The death bed letter by the retired undercover officer revealed that Wood was threatened by NYPD supervisors to trick two of Malcolm X's security men into committing crimes a few days before the assassination on Feb. 21, 1965.
"Under the direction of my handlers, I was told to encourage leaders and members of the civil-rights groups to commit felonious acts," Wood's letter stated.
The text had been approved by his cousin, Reggie Wood, for posthumous publication. It was read at a press conference on Saturday attended by three of X's daughters and Wood's family members.
No specifics were given regarding the circumstances and timing of Wood's death.
The letter claimed that Malcolm's security people were detained in February 1965. Wood admittedly played a part in setting up these security personnel so they'll be arrested days before Malcolm X's speech. Malcolm X was also said to have no protection at the Audubon Ballroom entrance where he talked that day.
According to Wood, the NYPD and FBI colluded together to frame and arrest the primary men that provided security for Malcolm X so that on the day of his assassination Malcolm would be an easy target. It worked. Wood also confesses that he was at the Audubon Ballroom in Harlem as an undercover agent on the day Malcolm was murdered and that another man was wrongly arrested and convicted to protect Raymond Wood's cover. Here's the letter Wood wrote for his family only to be released after he died.

Here's the letter.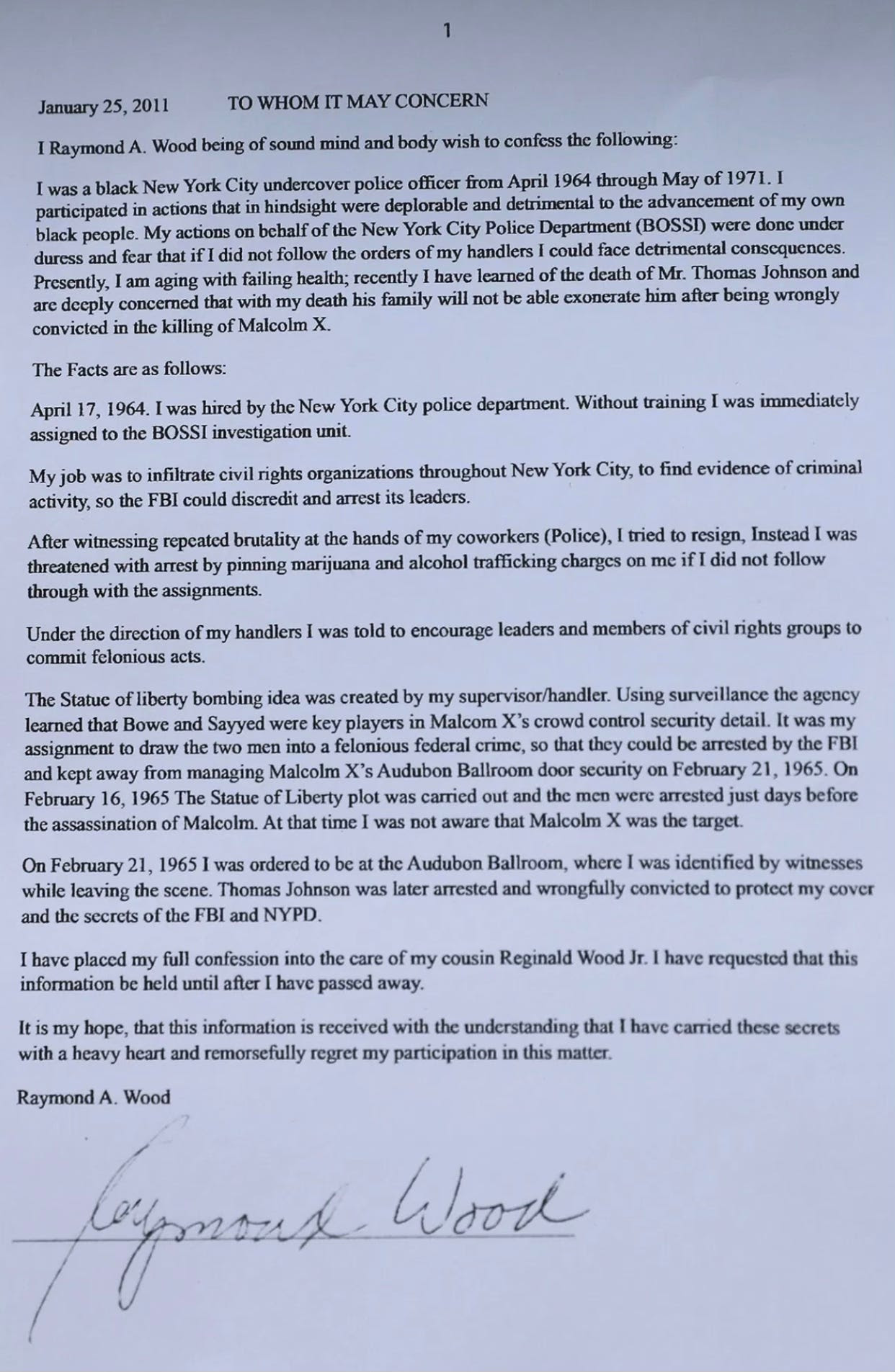 Here is the press conference that was held this weekend, which was the anniversary of Malcolm's death, about the newly discovered evidence. In addition to the family of Raymond Wood, the family of Malcolm X, and civil rights attorney Ben Crump was present.
---
Connect with NJTODAY.NET
Join NJTODAY.NET's free Email List to receive occasional updates delivered right to your email address!