President Donald Trump was impeached for a second time as House Republicans bitterly resisted a vote to just a week after he encouraged loyalists to "fight like hell" against election results and then a mob of his supporters stormed the U.S. Capitol.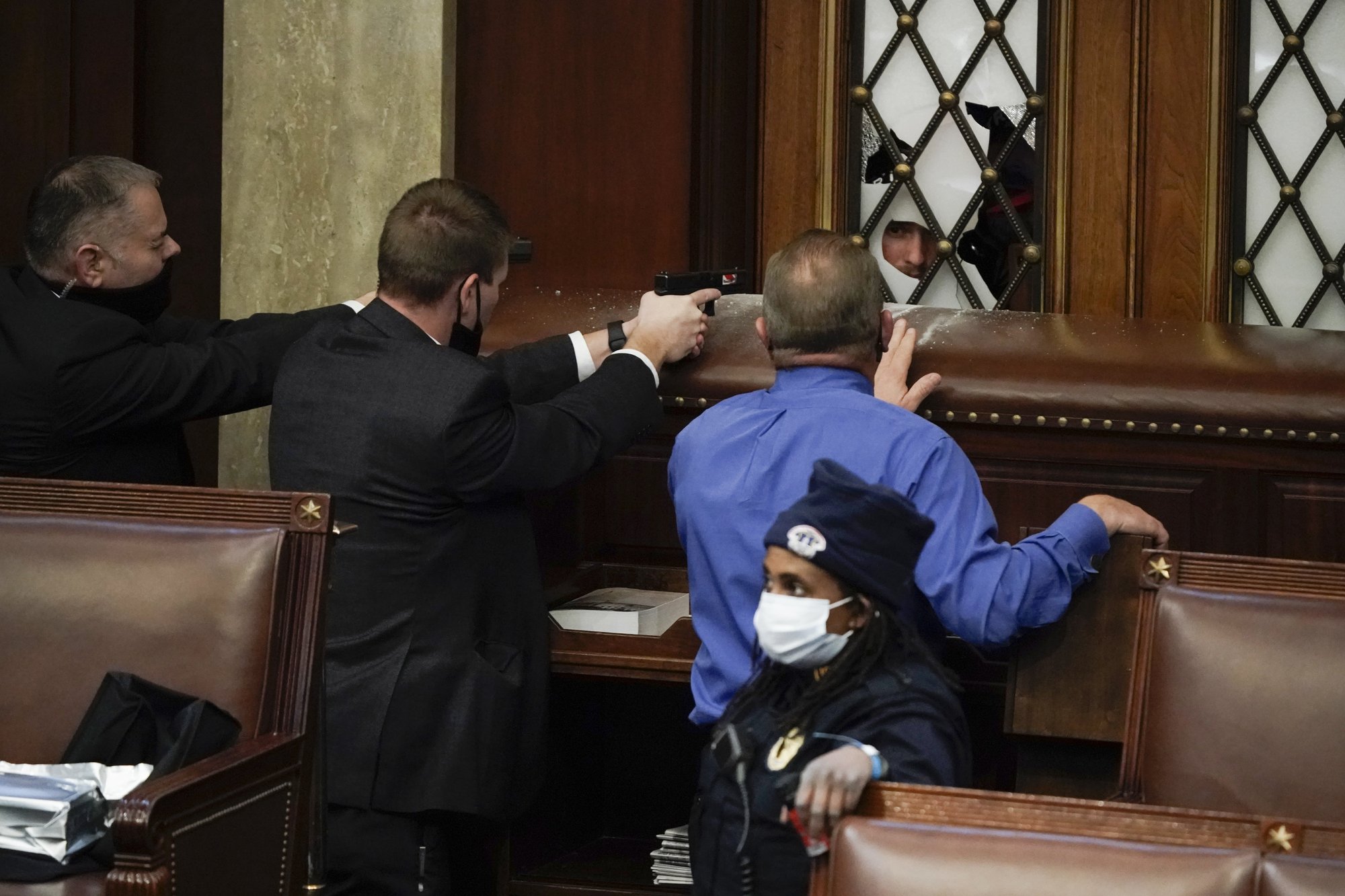 During debate on the articles of impeachment, House Speaker Nancy Pelosi asked Republicans and Democrats to "search their souls" ahead of the historic afternoon vote. Trump would be the first American president to be impeached twice.
Trump "must go," Pelosi said. "He is a clear and present danger to the nation we all love."
Trump is the first president in US history to be impeached twice, after the House passed an article charging him with "incitement of insurrection" for his role in last week's deadly Capitol attack.
Trump will stay in office and likely finish out his term because it takes a Senate conviction to remove him, even after he's been impeached. Senate Majority Leader Mitch McConnell is signaling he's in favor of impeachment, but the Republican won't agree to bring back Senate early for trial and Democrats cannot take control of the chamber until then.
Rep. Maxine Waters said, "I rise in support of impeaching again the worst president in the history of the United States … he is capable of starting a civil war."
Risk management expert Sylvia K. Alston noted that Waters sometimes stood alone in calling for Trump's impeachment and his removal during the last four years.
Majority Whip James Clyburn, the third-ranking Dem in House, blames Trump for inciting last week's violence: "If we do not hold him accountable…a future attempt may very well be acceptable."
Rep. Mikie Sherrill said that members of Congress led insurrectionists through the Capitol on a "reconnaissance" mission one day before the riot.
"I'm going to see they are held accountable, and if necessary, ensure they don't serve in Congress," said Sherrill, who has not yet named any politicians who were complicit in the rioting.
Former government ethics official Walter Shaub remarked, "Congress is now voting on whether to take the nuclear codes from a man who can't be trusted with a Twitter account."
The debate is a foregone conclusion, with at least six Republicans planning to join the Democratic majority in sending the impeachment charges to the US Senate, which will be evenly divided once two lawmakers from Georgia are sworn into seats they won last week.
It is also the only reasonable action after scenes from Capitol Hill shocked the world last week, as a violent mob loyal to Trump stormed the nation's halls of power in a brazen attempt to undercut democracy and keep Democrat Joe Biden from being certified in the race for the White House.
The chaos temporarily halted Congress' constitutionally mandated counting of the Electoral College results, which showed Biden defeated Trump, 306-232, but the nation may never recover from vulnerability in our society that was exposed to the world.
In an unprecedented message, the members of the Joint Chiefs of Staff told military service members that the Jan. 6 assault on the Capitol was an attack on the Constitutional process of the nation.
The memo — signed by all eight members of the Joint Chiefs of Staff — stresses that U.S. service members swear an oath to "support and defend the Constitution against all enemies foreign and domestic."
Effectively nullifying any effort by Trump to use armed forces as part of another coup attempt, the statement declared that the United States military "will obey lawful orders from civilian leadership, support civil authorities to protect lives and property, ensure public safety in accordance with the law, and remain fully committed to protecting and defending the Constitution of the United States against all enemies, foreign and domestic."
Thousands of pro-Trump extremists stormed the U.S. Capitol shortly after Trump incited a mob assembled for a 'Stop the Steal' rally in Washington, D.C.
After the riot spun out of control, some on the right turned to a familiar boogeyman in search of a scapegoat: antifa.
Throughout Wednesday afternoon and evening, pro-Trump commentators and even some elected officials – such as Reps. Mo Brooks, R-Ala., Paul Gosar R-Ariz., and Matt Gaetz, R-Fla. – boosted baseless claims that antifascist activists had infiltrated the rally and turned it toward violence.
The insurrection, incited by the President of the United States and other Republican leaders, marked one of the darkest days in American history but the resolute determination of a weak and broken political system to hold elected officials accountable is a sign that democracy can prevail.
H.Res.24, the legislation impeaching Donald John Trump, President of the United States, for high crimes and misdemeanors, was introduced with 217 co-sponsors.
"Throughout my time in Congress, I've sought to do the right thing for the good of the people I represent and for the country as a whole. We are in unchartered waters here, and in a moment in history we have not experienced in modern times," said Congressman Adam Kinzinger (IL-16). "On January 6, 2021, the President of the United States encouraged an angry mob to storm the United States Capitol to stop the counting of electoral votes. This angry mob turned violent and caused destruction to our nation's symbol of democracy. This insurrection led to countless injuries and the death of several people, including two of our U.S. Capitol Police Officers. There is no doubt in my mind that the President of the United States broke his oath of office and incited this insurrection. He used his position in the Executive to attack the Legislative. So in assessing the articles of impeachment brought before the House, I must consider: if these actions–the Article II branch inciting a deadly insurrection against the Article I branch–are not worthy of impeachment, then what is an impeachable offense?"
"I will vote to impeach the President," said Wyoming Congresswoman and House Republican Conference Chair Liz Cheney (R-WY).
On January 6, 2021 a violent mob attacked the United States Capitol to obstruct the process of our democracy and stop the counting of presidential electoral votes. This insurrection caused injury, death and destruction in the most sacred space in our Republic," said Cheney, whose father was vice president during the Bush administration. "Much more will become clear in coming days and weeks, but what we know now is enough. The President of the United States summoned this mob, assembled the mob, and lit the flame of this attack. Everything that followed was his doing. None of this would have happened without the President. The President could have immediately and forcefully intervened to stop the violence. He did not. There has never been a greater betrayal by a President of the United States of his office and his oath to the Constitution."
"Today the President characterized his inflammatory rhetoric at last Wednesday's rally as "totally appropriate," and he expressed no regrets for last week's violent insurrection at the U.S. Capitol. This sends exactly the wrong signal to those of us who support the very core of our democratic principles and took a solemn oath to the Constitution. I would have preferred a bipartisan, formal censure rather than a drawn-out impeachment process. I fear this will now interfere with important legislative business and a new Biden Administration. But it is time to say: Enough is enough," said Rep. Fred Upton. "The Congress must hold President Trump to account and send a clear message that our country cannot and will not tolerate any effort by any President to impede the peaceful transfer of power from one President to the next. Thus, I will vote to impeach."
---
Connect with NJTODAY.NET
Join NJTODAY.NET's free Email List to receive occasional updates delivered right to your email address!