U.S. Capitol Police have released photos of a suspect they say is wanted in connection to the death of U.S. Capitol Police officer Brian Sicknick during last week's Capitol riots.
Sicknick, 42, was bludgeoned with a fire extinguisher and pepper-sprayed as hundreds of Trump supporters overwhelmed law enforcement and stormed into the building. He died from those injuries a day later.
"The perpetrators of Officer Sicknick's death must be brought to justice," said Speaker Nancy Pelosi.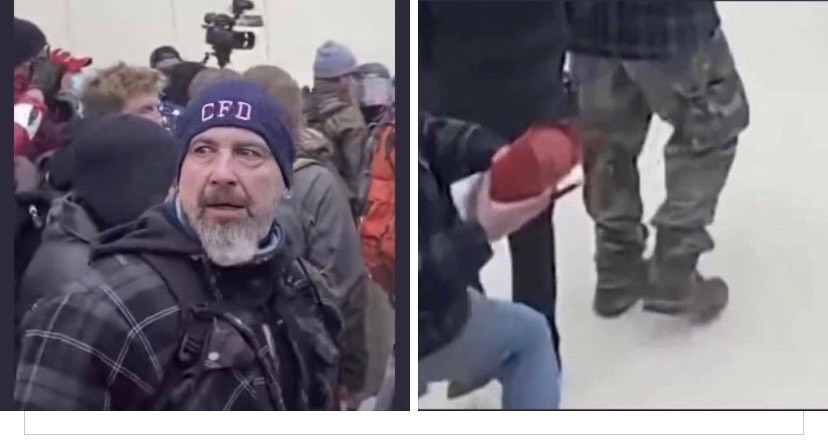 U.S. Capitol Police shared photos of an older white male with a beard, wearing a blue knit cap with the letters "CFD" and urged anyone who may recognize the suspect to contact the FBI with more information.
He is suspected of killing Sicknick, a New Jersey native who went to the national's capital to serve on the U.S. Capitol Police force.
Sicknick, 42, was a 12-year veteran of the force who died after he was hit in the head with a fire extinguisher during the riots.
"Officer Sicknick was responding to the riots at the U.S. Capitol and was injured while physically engaging with protesters," said a USCP statement. "He returned to his division office and collapsed. He was taken to a local hospital where he succumbed to his injuries."
The FBI is seeking information that will assist in identifying individuals who are actively instigating violence in Washington, DC. The FBI is accepting tips and digital media depicting rioting and violence in the U.S. Capitol Building and surrounding area in Washington, DC, on January 6, 2021.
If you have witnessed unlawful violent actions, we urge you to submit any information, photos, or videos that could be relevant at fbi.gov/USCapitol.
Please use this form to submit any images, videos, or other multimedia files you have related to possible violations of federal law committed. Our goal is to preserve the public's constitutional right to protest by protecting everyone from violence and other criminal activity.
You may also call ?1-800-CALL-FBI (1-?800-225-5324) to verbally report tips and/or information related to this investigation.
If you do not have an attachment but have information to provide, please submit it at tips.fbi.gov.
Sicknick served in the New Jersey Air National Guard, deploying repeatedly to the Middle East. He is the sixth Capitol Police officer ever to die in the line of duty.
The Associated Press reported that Sicknick's family does not want to make his death a political issue, as there are still questions about what happened.
"Brian is a hero and that is what we would like people to remember," said th efallen officer's brother, Ken Sicknick.
"Officer Sicknick was killed while doing his job—defending those trapped in the Capitol building amid a violent attack on our democracy," Virginia Gov. Ralph Northam said in a statement Friday. "His death is a tragedy, and those responsible must be prosecuted to the fullest extent of the law. My prayers and those of the entire Commonwealth go to his family, his loved ones, and his fellow officers who work every day to protect the seat of American democracy from those who would seek to destroy it."
The U.S. Attorney's office said the investigation is being done jointly by the FBI and DC Police but investigators speculated that if the medical examiner confirms Sicknick was hit in the head with an object that contributed to his death, that would be murder.
Because it happened on federal property, those responsible would be charged with murder in federal court.
The North America Building Trades Union is offering a $100,000 reward for information that leads to an arrest.
All U.S. and New Jersey flags were flown at half-staff at all state buildings and facilities on Monday, in honor of Sicknick, the former resident of South River, who died following injuries sustained while defending the Capitol during last week's violent insurrection.
A graduate of the Middlesex County Vocational and Technical Schools, Sicknick was a Staff Sergeant in the New Jersey Air National Guard.
He was a Fire Team Member and Leader with the 108th Security Force Squadron, 108th Wing, at Joint Base McGuire-Dix-Lakehurst, and his six years of military service included overseas deployments in support of Operation Southern Watch and Operation Enduring Freedom.
A second Capitol police officer also lost their life after they died by suicide in the days following the riots, the Washington Post reported. Howard Liebengood, 51, was one of the responding officers to the riots.
"To be clear, the brutality the American people watched with shock and disbelief on the 6th will not be tolerated by the FBI. The men and women of the FBI will leave no stone unturned in this investigation," said FBI Washington Field Office Assistant Director in Charge Steven M. D'Antuono. "Since these events, the FBI has worked hand-in-hand with the U.S. Attorney's Office and our law enforcement partners here in D.C. and across the country to arrest and charge multiple individuals who took part in the destruction. In six days, we have opened over 170 case files—and that's just the tip of the iceberg."
"The significance of this investigation is not lost on us. This is a 24/7, full-bore, extensive operation into what happened that day," said D'Antuono.
:We cannot do our job without the help of the American people. Since our call for tips, videos, and pictures, we have received more than 100,000 pieces of digital media—which is absolutely fantastic—and are scouring every one for investigative and intelligence leads," said D'Antuono. "We continue to ask for more. If you have information, contact 1-800-CALL-FBI or submit photos and videos to fbi.gov/USCapitol—that's Capitol with an O."
"I want to stress that the FBI has a long memory and a broad reach," said D'Antuono said. "Agents and our partners are on the streets investigating leads not only here in the D.C. area, but also across the country through the FBI's 56 field offices. So even if you've left D.C., agents from of our local offices will be knocking on your door if we find out that you were part of criminal activity at the Capitol. Before we do, this is your opportunity to come forward, as several individuals who were involved in Wednesday's riots have done, to volunteer information about their participation."
"His death was a waste," said John Krenzel, the mayor of Sicknick's hometown in South River, New Jersey. "It's just a tragedy."
Sicknick's father said Vice President Mike Pence and House of Representatives Speaker Nancy Pelosi called the family on Friday to offer their condolences.
During her call, Pelosi invited the family to the Capitol, where funeral services will be held, to pick out a spot for a plaque that will be made in Sicknick's honor, according to his father.
While his parents avoided talking politics with their son, and his family said Sicknick's political views never interfered with his duty, his father said the officer was a Trump supporter.
Trump has not publicly commented on Sicknick's death or the other four people who died when his supporters overran the Capitol building this week following a speech in which the president exhorted his followers to fight.
---
Connect with NJTODAY.NET
Join NJTODAY.NET's free Email List to receive occasional updates delivered right to your email address!