Despite the torrent of complaints coming from the loser of the 2020 presidential election, Americans who cast their first ballots in that contest remain upbeat about voting and democracy, according to a Georgetown University focus group study.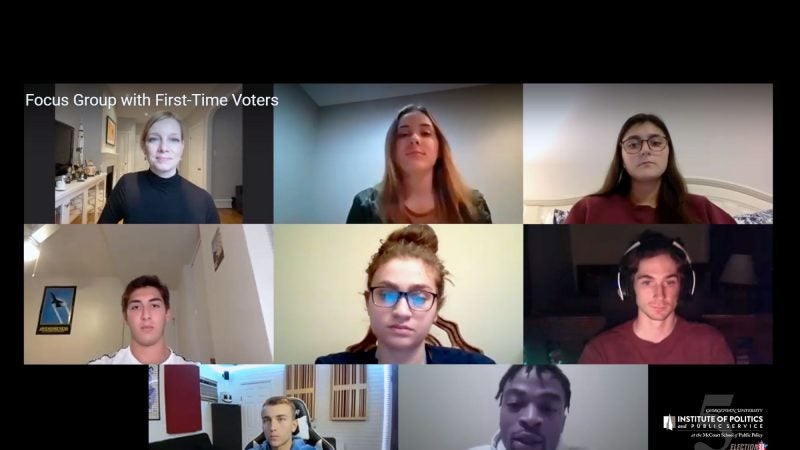 New voters took seriously their first participation in the democratic process, viewing it as an obligation even as they voiced some concerns about the process in a focus group conducted immediately following the 2020 election.
The young voters participating in the focus group generally found the voting process easy to navigate and believed it was the best way to make their voices heard.
At the same time, several participants expressed concern that political corruption, a biased media ecosystem, and perceived inequity in the Electoral College system had the potential to negate their voice.
The focus group, held on Wednesday, November 4, was convened by the Institute of Politics and Public Service at Georgetown University's McCourt School of Public Policy (GU Politics) to explore how young people who voted for the first time in the 2020 presidential election felt about voting and their first experience with democracy.
The conversation was led by Kristen Soltis Anderson, co-founder of Echelon Insights and a nationally-recognized expert on the youth vote, and included a diverse mix of seven participants from across the country.
"I was really struck by how many of them, on the one hand, were willing to say 'I'm not sure my individual vote is swinging an election. But that's also not the point…. I'm not doing it because I think I'm going to be the deciding vote…. By casting my ballot, even if it's not the make or break vote, it's at least sending a message that I care," said Anderson in a post-focus group conversation with GU Politics Executive Director Mo Elleithee.
Beyond voting, most of the participants expressed general satisfaction with democracy, even as they felt that perceived flaws in the system could work against their views and those of their generation.
"Every single one of them felt like they had an obligation to participate in the process. They wanted to and they were excited to participate, but they felt like they had an obligation and it was one of the clearest ways to have their voices heard," said Elleithee. "But at the same time, there was still a healthy skepticism of the process. We kept hearing phrases like 'voter suppression,' and 'corruption in politics,' and unfairness in the Electoral College…. And yet, they all felt it was important to participate and would encourage their peers to participate."
Other major findings from the hour-long session included:
First-time voters generally found the process of voting to be easy, even given the change in voting processes resulting from COVID-19. They felt good about voting and would do so again.
Few of our first-time voters had been contacted by a campaign directly, but instead talked about an atmosphere of friends, family, and social media encouraging voting.
Some of our first-time voters felt the Electoral College diminished the importance of their vote, and suggested it is a system they'd like to change.
The top issues for these first-time voters were climate change and health care. They also worried about corruption and bias from the media.
Our first-time voters' message to their generation? You should vote too – and do your research first.
The project was conducted in partnership with the impact network and media platform Unfinished.
---
Connect with NJTODAY.NET
Join NJTODAY.NET's free Email List to receive occasional updates delivered right to your email address!