A lawyer who was found dead Monday is the suspect in a shooting at US District Judge Esther Salas' North Brunswick home.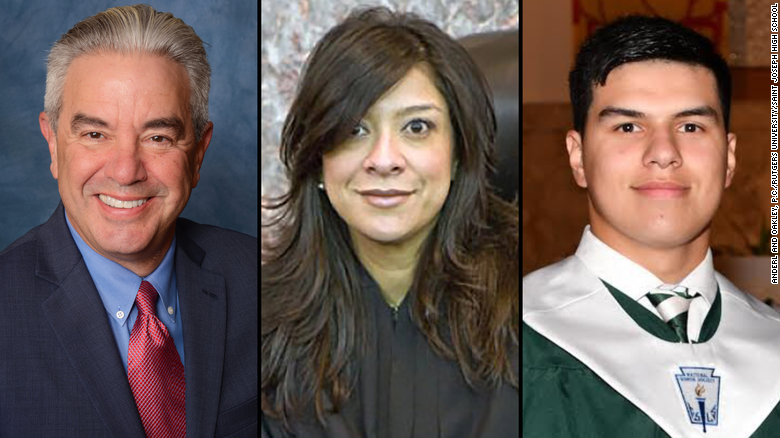 Salas' son was killed and her husband injured in the attack at the family's home on Sunday. Salas, reported to be in the basement of the home at the time, was unharmed.
The FBI identified Roy Den Hollander as the "primary subject," after he died of what appears to be a self-inflicted gunshot wound.
The US Attorney's office said Den Hollander was a lawyer who once argued a case before Salas, according to court records.
In that lawsuit, Den Hollander represented a woman and her daughter who sought to register for the military's selective service.
Den Hollander's clients claimed selective service was unconstitutional because it barred women from registering for the draft.
Den Hollander handed the case over to a team of lawyers at Boies Schiller Flexner in June 2019, because he was terminally ill and "would not be able to see the case through," said Nick Gravante, a managing partner at the New York-based law firm.
The suspect's body was found in the town of Rockland in Sullivan County, New York, according to Trooper Steven Nevel of New York State Police.
Den Hollander's split from his Russian bride nearly 20 years ago helped trigger a women-hating tailspin that culminated in his murderous rampage at a female federal judge's home, according to his ex-wife's divorce lawyer.
"In my opinion, he was already a controlling, misogynistic, sexist, delusional and disturbed individual before his marriage failed," lawyer Nicholas J. Mundy told The New York Post. "But my success helping this poor girl thwart his subsequent attempts to control and destroy her in the divorce and immigration context really aided in pushing him over the edge."
"He really had a terrible hatred for all women — particularly women in power like judges — and he was hellbent on trying to exact revenge on anybody that he thought crossed him," said Mundy. "He would threaten and say disparaging things about the judges in legal papers and in letters to the court. He didn't shy away from being unprofessional and speaking his mind in that manner."
Den Hollander might be linked to the July 11 slaying of men's rights lawyer Marc Angelucci at his California home, in an attack similar to the one at the judge's home, with the shooter claiming to be a delivery man and opening fire.
Angelucci, 52, was vice president of the National Coalition for Men, which states on its website it is "committed to ending harmful discrimination and stereotypes against boys, men, their families and the women who love them."
Harry Crouch, who heads the San Diego-based coalition, said he kicked Den Hollander out of the organization seven years ago because he became upset about being left out of a lawsuit that Angelucci had filed.
Hollander, 72 and dying of melanoma, kept on practicing law to his final months, filing far-fetched discrimination lawsuits challenging clubs' ladies' nights, Columbia University's women's studies program, and news organizations over what he called biased coverage.
In a January email to reporters titled "How Not to Treat a Dying Man," Hollander wrote that he was "painfully dying from metastasized cancer," and suing New York Presbyterian Hospital, its lawyers and his doctor under the Racketeer Influenced and Corrupt Organizations Act.
The judge's son, Daniel Anderl, a 20-year-old student at Catholic University, was killed in the shooting, and Mark Anderl, the judge's husband and a defense attorney, was injured. Salas was unharmed, Wolfson said.
Mark Anderl was in stable condition after his second surgery but sources said the judge's husband will need another operation.
Nominated by President Barack Obama, Salas became New Jersey's first Latina US District Court judge in 2011 after she was confirmed by the Senate and she has presided over several high-profiles cases
The FBI wants anyone with information about the case to call its Newark office at 973-792-3001.
---
Connect with NJTODAY.NET
Join NJTODAY.NET's free Email List to receive occasional updates delivered right to your email address!