By Thomas Brading, Army News Service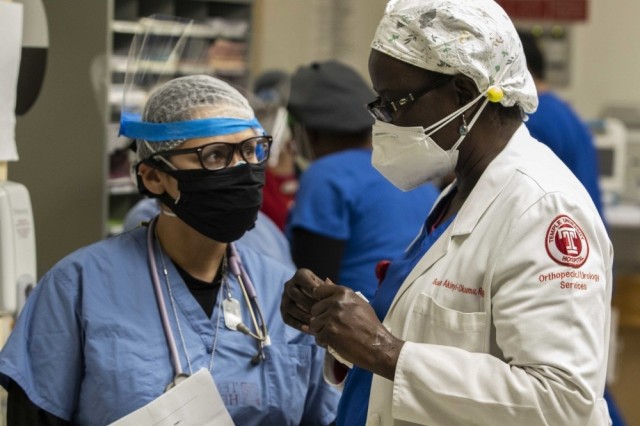 As many schools, businesses, and jobs screeched to a halt during the country's COVID-19 outbreak, Army Reserve troops began to work in hospitals around the clock in what feels like "a battlefield in their backyard," as one medic said.
Last month, to help civilian hospital workers take on this virus, 15 Urban Augmentation Medical Task Forces were put together with Army Reserve medical professionals from around the country. These units were dispatched to hotspots in the Northeast and Midwest to join the homeland defense mission against the virus.
Each task force is an expeditionary medical unit of roughly 85 personnel, capable of arriving in urban areas to assist with low-acuity medical care in step with U.S. Northern Command's COVID-19 response. They are now assisting in numerous settings from alternate care facilities to more than 20 different hospitals in six states.
"We have a team in Detroit, Michigan, at the TCF Center; a team in Pennsylvania supporting five different hospitals and one alternate health care facility," said Army Chief of Staff Gen. James C. McConville last week.
In addition to Michigan and Pennsylvania, task forces are in New York, New Jersey, and Massachusetts, and one reported to the Stamford Hospital-Bennett Medical Center in Connecticut.
The Stamford team is working out of a recommissioned building on the medical campus.
"It's one thing to go overseas and care for people in a deployed setting, but it's another to care for sick and injured in my own country like this," said Maj. Jim Burrow, a family nurse practitioner with the 811-1 Task Force in Stamford.
Working on the Connecticut medical campus feels like a battlefield deployment, he said. "We're in an environment where patients have passed away, and although the coronavirus has taken over, we're trying to keep as many people alive as possible until the viral war ends."
In his civilian capacity, Burrow is a palliative care nurse from Bates City, Missouri. On any given day, he could be in a nursing home, hospital, or home of a patient fighting a life-threatening or terminal illness.
So, although he is no stranger to difficult medical situations, the non-stop clinical environment against an invisible enemy is unfamiliar territory for him — especially on American soil.
"We're not typically in a position to care for our own people like this," Burrow explained. "But it's also very humbling to care for Americans in their time of need. Even with so much suffering, the amount of support and outpouring of love has been phenomenal."
Burrow is no exception. Each task force is a patchwork of reserve Soldiers plucked from their units and daily lives. The assembled teams may have never met, or explored the neighborhoods they're called into, but quickly came together for a common goal — helping others.
Every morning, as medical workers arrive at the hospital, they're greeted with encouraging signs by the local community showing support. Many messages come from family members of patients who are unable to see their loved ones inside as they fight the infectious disease.
From the day Burrow arrived, he said, "the partnership between the hospital workers and reserve Soldiers has been perfectly streamlined. The medical team has provided us the resources we need, and we have provided the manpower they need."
"The job they're doing here [in Stamford] has been seamless," said Lt. Col. Gabe Caminero, a liaison officer for the Connecticut National Guard. "People know what their mission is, and know how to get from point A to point B."
For Caminero, this is home. Unlike the reserve Soldiers in the task forces, the activated National Guardsmen are generally from the locations they're serving in. More than 10,000 National Guard soldiers are supporting COVID-19 pandemic response efforts in communities in every state across the nation.
Caminero is a probation officer just an hour-drive away in Hartford, Connecticut. Although he risks exposure every day, he admitted, "I wouldn't want to be anywhere else" than helping the people in his home state.
In the National Guard, Caminero has more than a decade of experience in joint environments.
He has experience with other military branches, government agencies, and foreign militaries and governments, at home and abroad. With that experience, he added that the mission in Connecticut has went "smoothly."
He said all the Soldiers are taking on vital roles, all the way down to the infantrymen who shuttle medical providers in and out of the hospital.
From time to time, amid the long stress-filled workdays, "Here Comes the Sun" by the Beatles plays over the hospital radio. It's a cue for the staff. When the opening chords blare, they line the hallways to cheer as another COVID-19 patient is discharged.
It's more than music. Every time it plays, it represents a hospitalized patient who could have passed away, or may have been away from their families stuck in the ICU for months. But instead, they lived, he said.
"Every time I hear the music, it sends chills down the back of my neck," Caminero said. "It's the small victories that add up."
At the same time, he understands the dangerous situation he's in. Every day, he's risking possible exposure to the virus.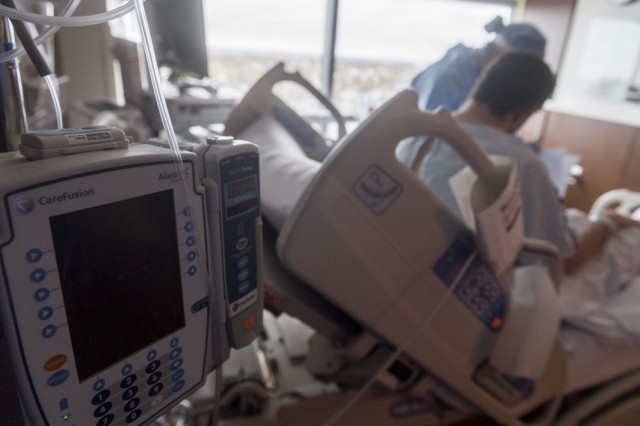 "I know the virus is everywhere," Caminero said. "I do have fears; I have my pregnant wife, I have an elderly mother, and my brother is in the high-risk category. I don't want to get them sick."
But, Caminero also believes in serving his community, which is why the Connecticut native joined the National Guard in the first place.
"We're making a difference here," he said. "Not just on the battlefield far away from home, but in this current environment, we're making a difference in our communities, too."
---
Connect with NJTODAY.NET
Join NJTODAY.NET's free Email List to receive occasional updates delivered right to your email address!