Rep. Alexandria Ocasio-Cortez endorsed Democratic presidential candidate Sen. Bernie Sanders at a rally on Saturday, Oct. 19, 2019 in New York.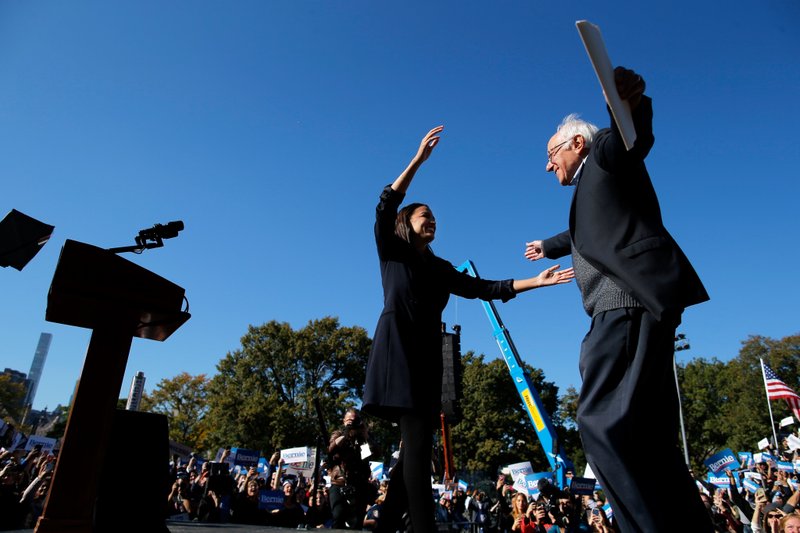 "To put it bluntly, I am back," Sanders declared at his first rally since suffering a mild heart attack. "We need a new vision for America."
"I am happy to report to you that I am more than ready, more ready than ever to carry on with you the epic struggle that we have today," Sanders, who came onstage to AC/DC's "Back in Black," said. "I am more than ready to assume the office of President of the United States. I am more than ready to take on the greed and corruption of the corporate elites and their apologists … To put it bluntly, I am back."
Ocasio-Cortez said her decision to endorse him was driven by a "moment of clarity."
Oscar-winning filmmaker Michael Moore announced his support for Sanders, saying the Vermont senator can "crush" President Trump at the polls as he joined the freshman Congresswoman at the "Bernie Is Back!" rally in Queensbridge Park.
"It wasn't until I heard of a man by the name of Bernie Sanders that I began to question and assert and recognize my inherent value as a human being who deserves health care, housing, education and a living wage," Ocasio-Cortez said, as she traced her trailblazing path from "sexually harassed waitress" across the river, in downtown Manhattan, to the halls of the United States Congress.
Ocasio-Cortez pointed to the Ravenswood Generating Station smokestacks, which she called "ground zero" in the fight for "environmental justice" and, with the Queensbridge Houses, the largest public housing development of its kind in America.
The proximity of the plant to the apartment buildings, Sanders said later, was an example of the "environmental racism" his Green New Deal is designed to combat.
Moore told the crowd that age and health are not factors for Sanders (I-VT). Instead, the Sicko director blamed political pundits and the media for making the 78-year-old politician's age an issue by recycling tired "tropes."
"They are doing everything they can to throw everything they can come up with, to get people to think differently about Bernie," Moore told the massive crowd. "So what do they say? Bernie's too old."
"Yeah. Well, here's what's too old," he continued. "The electoral college is too old. That's what's too old. A $7.25 minimum wage, that's too old. Women not being paid the same as men, that's too old. Thousands and thousands of dollars of student debt. What is that? Too old."
"It's actually a gift that we have a 78-year-old American running for president of the United States," the left-leaning director stated. "Bernie has seen the things many of us have never seen — a pay raise! How about that?"
After the crowd erupted in laughter, Moore added, "A 78-year-old knows what a pension is. Remember that? Look it up. A 78-year-old knows what it looks like to defeat fascism and white supremacy."
The endorsement underscored the argument that Sanders is uniquely positioned to forge, the multiracial working class coalition Democrats need to win.
"This isn't about Bernie Sanders. This is about us," said Ari Rabin-Havt, Sanders' chief of staff. "And this is what these endorsements are about. These are people who want a movement for change in this country. A movement for 'Medicare for All,' a movement for a Green New Deal, a movement on these issues. And you know, when Bernie Sanders says, 'Not me, us,' I think that message resonates with members of Congress who believe strongly in a movement."
Justice Democrats Executive Director Alexandra Rojas said the Ocasio-Cortez endorsement, is "significant in the sense that it shows that the Bernie campaign is important to progressives and Democratic voters."
"I know that Justice Democrats and myself (in this role) wouldn't even exist if it hadn't been for Bernie's 2016 presidential run," Rojas said. "He has a young, racially diverse, totally working-class base of support, which is the same people that Alexandria Ocasio-Cortez represents. She looks so much more like the grassroots base of the Democratic Party than Chuck Schumer, than Nancy Pelosi. And I think that's why the endorsement was so important for Bernie."
Rep. Ilhan Omar, D-Minn., endorsed Sanders earlier in the week and Rep. Rashida Tlaib, D-Mich., will tour of her congressional district with Sanders next week.
Another Democratic presidential hopeful is making headlines, after Hillary Clinton claimed Russia is helping Rep. Tulsi Gabbard, the Hawaii congresswoman who endorsed Sanders in 2016 and is currently a candidate.
---
Connect with NJTODAY.NET
Join NJTODAY.NET's free Email List to receive occasional updates delivered right to your email address!