Tulsi Gabbard, a Hawaii congresswoman, National Guard officer, and presidential candidate, spoke today at Politics and Eggs breakfast event in New Hampshire, where she told an audience that 'simple acts of Aloha' can begin effort toward national unity because the word, "Aloha," means more than, "hello" and "good-bye."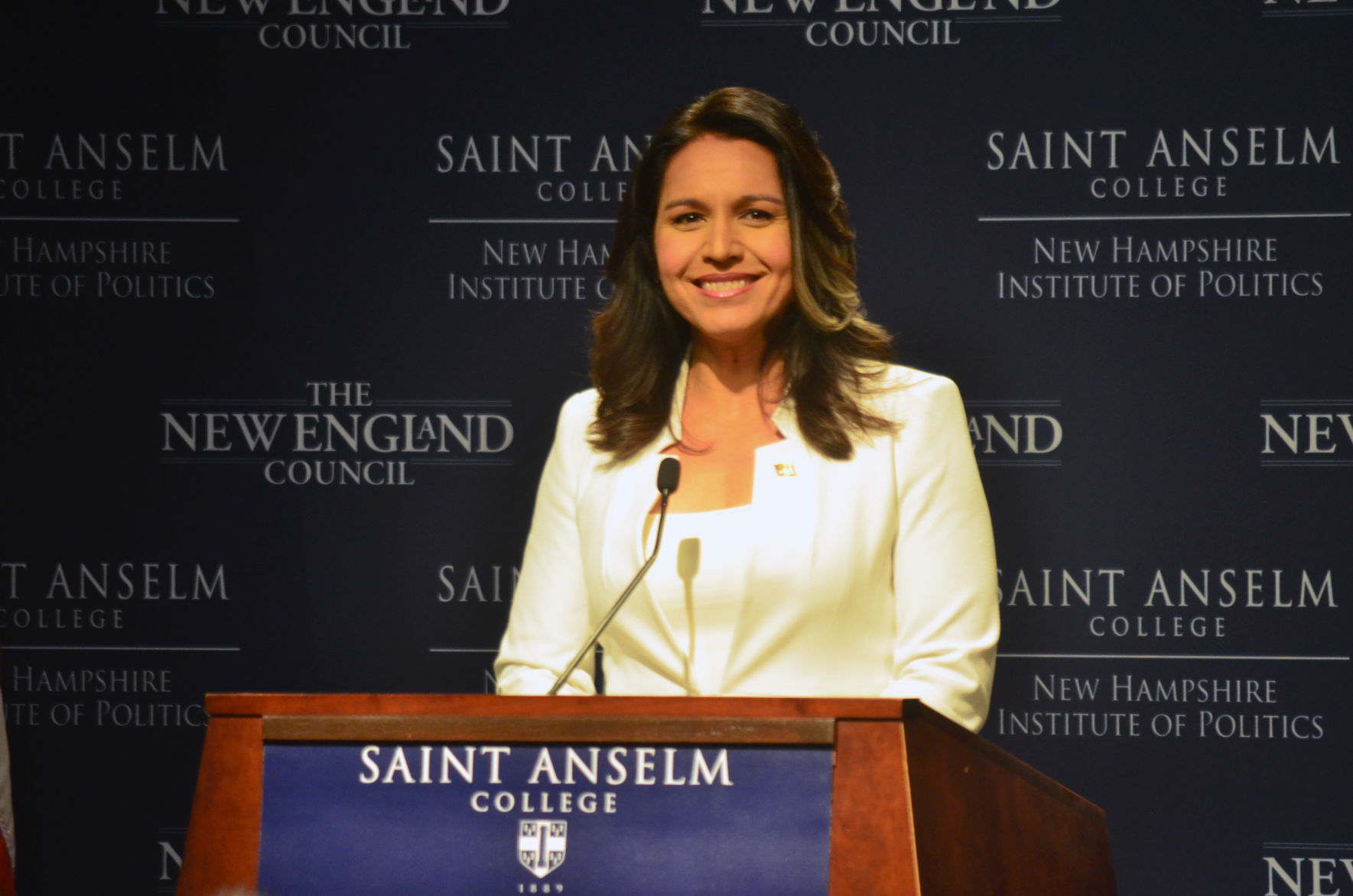 Gabbard returned to the campaign trail on August 25, after fulfilling a two week assignment as part of a joint-training exercise with the Indonesian military, focused on counterterrorism and disaster response.
The U.S. Army veteran and National Guard major has called for the withdrawal of all U.S. troops from Afghanistan and more restraint before sing military force to impose America's will on the world.
Gabbard began a three-day presidential campaign visit to the Granite State with a stop at the New Hampshire Institute of Politics to speak to local leaders at a traditional Politics and Eggs breakfast.
The 38-year-old four-term Democrat identified a variety of problems facing the nation – from the opioid epidemic, gun violence and health care challenges to what she called a failed foreign policy.
Asked if she would release her tax returns if elected president and whether a president should be required to release their tax returns, Gabbard said, "Yes and yes. I don't think it needs much more explanation than that."
Gabbard, who is both the first Samoan American and Hindu person to serve in Congress, endorsed Bernie Sanders in 2016, and she is a leader of the progressive wing of the party, although her military background adds a different dimension that's refreshing to many voters.
"The real meaning of 'Aloha' is, 'I come to you with respect. I come to you with an open heart and with care and compassion' and the recognition that we are all connected, that we are all children of God and connected regardless of where we come from, our race, religion, orientation," Gabbard said. "All of these different things that, unfortunately, in this current political climate are too often used as wedges to divide us, to tear our country apart."
Dealing in a bipartisan way with the myriad of issues facing the nation "starts at the top. It starts with leadership. But it also needs to happen within our communities.
"It can't be a one-sided thing that's dictated from the top. We, as people, need to recognize the role that we need to play, whether it's within our workplace, at school, even at home," Gabbard said. "Where it must begin is with that recognition that the things that we care about, the things that make us angry and frustrated are things that should drive us to bridge this divide, that we have to start at a place of respect. And this is the kind of leadership I would bring."
"It's the kind of work that I've been doing already in my almost seven years in Congress," Gabbard said. "That's what has allowed me to be effective throughout my time in Congress."
Gabbard said she learned the value of cooperation in her upbringing and during her service in the U.S. Army and National Guard.
In the military, she said, the mindset is "being a realist and really understanding the situation."
Following the main session, Gabbard told journalists she takes issue with the Democratic National Committee's handling of the debate process. Gabbard did not qualify for the third debate on Sept. 12.
"It would have been good to be there," she said. "It's unfortunate that we've seen really a lack of transparency in how the DNC has been choosing which polls they would recognize as qualifiers versus not."
"Regardless, the debate is not the only way to reach voters. It's a minor setback but not one that can't be overcome," Gabbard said.
---
Connect with NJTODAY.NET
Join NJTODAY.NET's free Email List to receive occasional updates delivered right to your email address!