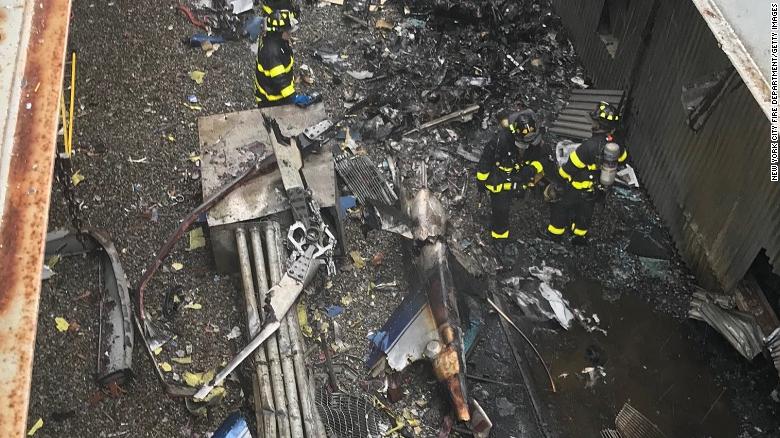 The New York City Fire Department was responding to a helicopter crash landing at about 2:15 p.m. Monday, atop a 50-story office building on 7th Avenue and 51st Street in Manhattan.
The New York City Fire Department confirmed one fatality.
The New York City Police Department said in a tweet that the incident was a "helicopter hard landing" and a fire that broke out has been extinguished.
Witnesses on the ground nearby said the incident was eerily reminiscent of the Sept. 11, 2001 attacks, although there is no indication that terrorism contributed to the crash.
Gov. Andrew Cuomo remarked that "If you're a New Yorker you have a level of PTSD from 9/11." Witnesses on the ground echoed that sentiment.
Rafael Arias, who works at the Pret-a-Manger on the bottom floor of the AXA Equitable Center, told The Daily Beast that he felt the building "sway" during the crash, which killed the pilot. "I thought maybe it was a mini-earthquake but then again we're in New York and I was like, shit, maybe 9/11 again."
The helicopter took off from the 34th Street heliport at about 1:32 p.m., NYPD Commissioner James O'Neill said. It crashed on the roof of 787 Seventh Ave. about 11 minutes later.
The pilot was identified as Tim McCormack by law enforcement sources.
FAA spokeswoman Kathleen Bergen said he was the only person on board the Agusta A109E helicopter when it crashed on the roof of the building.
At the time of the incident, moderate to heavy rain was falling in the city and visibility at Central Park was down to 1.25 miles. Winds were from the east at 9 mph.
Based on interviews the NYPD conducted at the 34th Street heliport on Manhattan's east side, the pilot was waiting out the weather but for some reason decided it was okay to go.
In 2014, McCormack made an emergency landing at the West 30th Street heliport when a bird struck the helicopter he was piloting and broke part of the windshield.
American Continental Properties, the company that owns the helicopter that crashed in New York City, said McCormack flew for them for the past five years.
---
Connect with NJTODAY.NET
Join NJTODAY.NET's free Email List to receive occasional updates delivered right to your email address!