At a time when the cost of a typical phone call is approaching zero, people behind bars in the U.S. are often forced to pay astronomical rates to call their loved ones or lawyers because phone companies bait prisons and jails into charging high phone rates in exchange for a share of the revenue.
Seventy percent of the 646,000 people locked up in America's more than 3,000 local jails are being held for trial — meaning they have not yet been convicted of a crime and are legally presumed innocent — but a study of 1,800 of those jails shows sheriffs often sign lucrative phone contracts that prey on detainees.
While the jail population in the U.S. has grown substantially since the 1980s, the number of convicted people in jails has been flat for the last 15 years.
Detention of the legally innocent has been consistently driving jail growth, and the people in jail for pretrial detention are even poorer than people in prison, but only two companies now control most of the correctional phone business and they use cruel schemes to drive up costs for a captive market.
County and city jails frequently charge incarcerated people $1/minute or more for a phone call, far more than even the worst rates in state prisons, a new 50-state report finds.
The Prison Policy Initiative report State of Phone Justice uncovers the cost of phone calls in over 1,800 jails nationwide, explaining why sheriffs sign lucrative phone contracts that prey on pretrial detainees.
"Jails have managed to escape the political pressure that forced many prisons to bring their rates down," said co-author Peter Wagner. "We found that many jails are charging three, five or even 50 times as much as their state's prisons would charge for the same phone call." The report explains how:
Phone providers compete for jail contracts by offering sheriffs large portions of the revenue – and then charge exorbitant phone rates.
Providers exploit sheriffs' lack of experience with telecommunications contracts to slip in hidden fees that fleece consumers.
State legislators, regulators and governors pay little attention to jails, even as they continue to lower the cost of calls home from state prisons.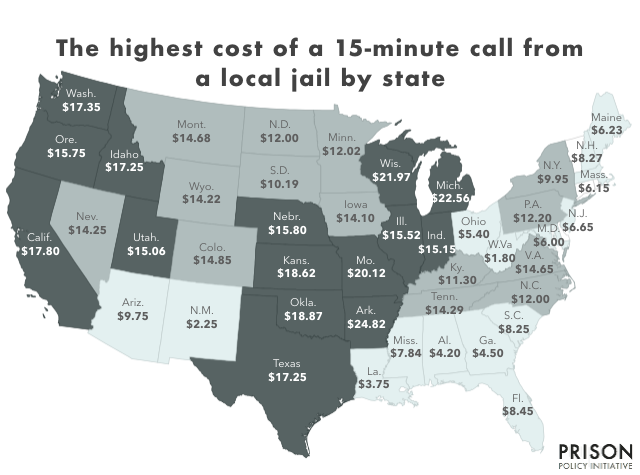 "High phone rates impact everyone in jail, but those worst affected are people detained pretrial because they cannot afford bail," co-author Alexi Jones said. "When someone has to organize their defense from jail, the cost of phone calls becomes extremely limiting, and that ultimately makes our justice system less fair."
The report also includes:
"If we're going to tame the correctional phone market, we need sheriffs, state legislators, public utilities commissions and federal regulators to understand the significance of jail phone calls," Wagner said.
The good news is that, in the last decade, we've made this industry considerably fairer:
The Federal Communications Commission (FCC) capped the cost of out-of-state phone calls from both prisons and jails at about 21 cents a minute;
The FCC capped many of the abusive fees that providers used to extract extra profits from consumers; and
However, the vast majority of our progress has been in state-run prisons. In county- and city-run jails — where predatory contracts get little attention — instate phone calls can still cost $1 per minute, or more. Moreover, phone providers continue to extract additional profits by charging consumers hidden fees and are taking aggressive steps to limit competition in the industry.
These high rates and fees can be disastrous for people incarcerated in local jails.
Local jails are very different from state prisons: On a given day, 3 out of 4 people held in jails under local authority have not even been convicted, much less sentenced. The vast majority are being held pretrial, and many will remain behind bars unless they can make bail.
Charging pretrial defendants high prices for phone calls punishes people who are legally innocent, drives up costs for their appointed counsel, and makes it harder for them to contact family members and others who might help them post bail or build their defense.
It also puts them at risk of losing their jobs, housing, and custody of their children while they are in jail awaiting trial.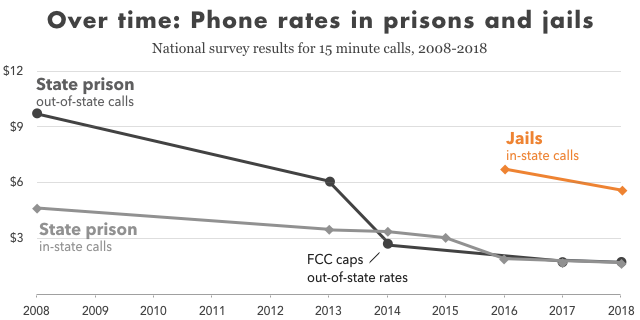 The cost of calls home from state prisons has declined as a result of the FCC's caps and political pressure from the families, but jails still lag far behind.
In fact, we estimate that approximately half of the small rate drop shown for jails is due to changes in data and methodology between the 2016 and 2018 surveys and may not reflect an actual drop in prices.
It is well within the power of both prisons and jails to negotiate for low phone rates for incarcerated people, by refusing to accept kickbacks in the form of commissions from the provider's revenue and by striking harder bargains with the providers.
And many state prisons have done so: New Jersey state prisons, notably, negotiated for phone calls costing less than a penny a minute.
But in New Jersey jails — which are run not by the state but by individual cities and counties — phone calls cost much more, with a typical 15-minute call home from a jail costing $$6.65.
In other states, the families of people in jail have to pay even more: A call from a Michigan jail costs about $12 on average, and can go as high as $22 for 15 minutes (compared to $2.40 from the state's prison system).
New York City last year became the first jurisdiction to make calls home from jails free.

---
Connect with NJTODAY.NET
Join NJTODAY.NET's free Email List to receive occasional updates delivered right to your email address!