Benny & Joon, a new musical at Paper Mill Playhouse, is a delightful story about love overcoming madness.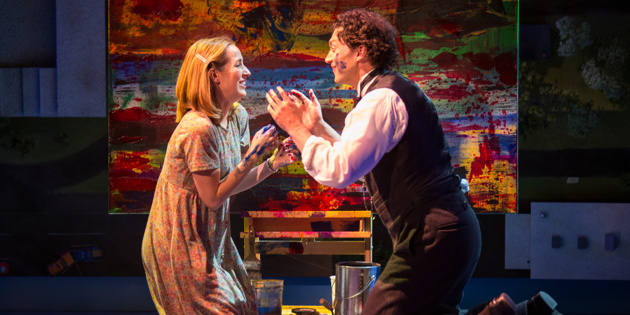 Benjamin "Benny" Pearl and sister Juniper "Joon" Pearl, were orphaned by a car crash that claimed their parents' lives, while failed actress Ruthie is working at a local diner and managing the apartment building where she resides.
Benny inherited responsibility of caring for his schizophrenic younger sister, known as Joon, when he was just 18.
Benny works to support the two of them while Joon stays at home and paints, often exhausting the patience of caretakers hired by her brother.
Benny's long-running poker game wagers on stakes other than money, but when he is called away, Joon loses a bet to provide room and board for Sam, the goofy cousin of Mike, one of her brother's friends.
Despite being mentally ill, Joon is a free-spirited young woman who shares a connection with Sam, an eccentric disciple of such old-time comedians as Buster Keaton, Charlie Chaplin, and Harold Lloyd.
Sam largely communicates by quoting the great lines from movies and silent movie slapstick, but his unconventional methods get through to Joon.
Sam impressed Benny by replacing Joon's caregiver (who was recently only the most recent one to quit), cleaning the messy home, making grilled cheese sandwiches with a clothes iron.
The co-dependent brother just never imagined Sam and his sister could fall in love and he refuses to accept that his on lonely heart was vulnerable to the charms of the beautiful waitress, Ruthie, whose acting career began and ended with a dual role in a slasher movie called The Prom Queen Mutilator.
Based on the 1993 romantic comedy by Barry Berman and Leslie McNeil, the stage version will be performed at the Paper Mill Playhouse through May 5.
Performances are 7:30 p.m. Wednesdays, 1:30 and 7:30 p.m. Thursdays, 8 p.m. Fridays, 1:30 p.m. and 8 p.m. Saturdays, 1:30 p.m. and 7 p.m. Sundays at the Paper Mill Playhouse, 22 Brookside Drive, Millburn.
Tickets are available from $34 and up, so call 973-376-4343 or visit papermill.org online. Hannah Elless stars as Joon, Claybourne Elder as Benny, Bryce Pinkham as Sam, while Conor Ryan, Tatiana Wechsler, Colin Hanlon, Paolo Montalban, Natalie Toro, Jacob Keith Watson and Belinda Allyn play in supporting roles.
Paper Mill Playhouse's Benny & Joon, featuring a book by Kirsten Guenther, music by Nolan Gasser, lyrics by Mindi Dickstein, and based on the Metro-Goldwyn-Mayer motion picture is directed by Jack Cummings III, choreographed by Scott Rink and music-directed by J. Oconor Navarro.
.
---
Connect with NJTODAY.NET
Join NJTODAY.NET's free Email List to receive occasional updates delivered right to your email address!