Extreme weather is raising the stakes at military bases across the nation, but preparations for the changing climate have often been slow, as demonstrated in Nebraska, when Offutt Air Force Base personnel were overwhelmed by flood waters that started to creep onto the installation March 15.
Missouri River flooding inundated buildings, surrounded fuel tanks and submerged part of the runway at the base near Omaha, Nebraska, which among many roles, is home to the U.S. Strategic Command in charge of America's nuclear deterrence and global strike capabilities.
An increase in water levels upstream due to a record-setting snowfall this winter, in addition to a huge drop in air pressure, has overwhelmed the southeastern side of the base with water from the Missouri River and Papio Creek.
The flooding submerged part of the runway and inundated dozens of buildings at the air base.
John Winkler, district general manager of the Papio-Missouri River Natural Resources District, a local government agency responsible for managing the river, said the price of the disaster will be many times more to repair than it would have cost to prevent.
Even though military officials knew that the defense infrastructure is vulnerable to the effects of climate change, the response to protect Offutt was agonizingly slow, Winkler said.
Winkler said approvals from the Army Corps of Engineers took six years to navigate, so construction never began to reinforce an earthwork levee system to protect the vital base from the Missouri River when waters raged over its banks.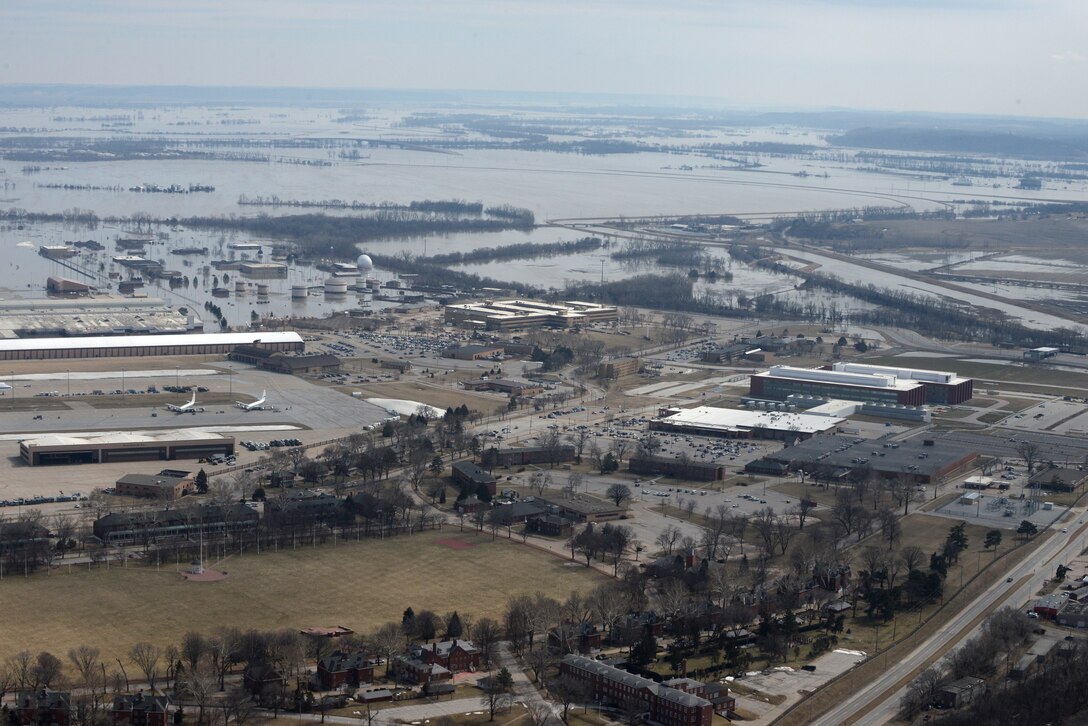 "Team Offutt has done an incredible job working together to battle this historic flood as best we can," said Col. Michael Manion, 55th Wing commander. "We can't thank our on-base mission partners enough for their support through this as well as officials from the City of Bellevue, the City of LaVista, Sarpy County, the State of Nebraska and the Omaha Public Power District."
Staff Sgt. Luis Stump, a squadron commodities flight chief, led a team to
purchase $650,000 worth of preparation supplies to help fortify key infrastructure shortly before the flood that eventually took over one-third of the base.
Base officials evacuated the Base Lake and personnel worked around the clock to fortify facilities with more than 235,000 sandbags and 460 flood barriers to minimize damage as much as possible.
Within 16 hours, the team executed 22 contracts, including purchases of 45 tons of sand, 460 barriers, 235,000 sand bags and 16 pallets of water.
What they couldn't get from inbound trucks, they went out and got themselves.
"All the businesses in the community were so supportive and we had a nice contracting team that did most of the legwork so were just driving around, loading up and paying people," said Staff Sgt. Nikkolas Tessier. "It saved us a lot of time."
"Since a lot of companies were closed, Friday evening and into Saturday morning, at 2, 3 o'clock in the morning, finance came in with cash," Stump said. "We sent a member of our team with a paying agent from finance and they were literally driving all around Omaha and parts of Iowa."
Missouri River flooding inundated buildings, surrounded fuel tanks and submerged part of the runway at Offutt Air Force Base near Omaha, Nebraska, in mid-March.
The flooding submerged as much as a third of the base, closing down the runway and halting flight operations.
It will be months before the base recovers fully and returns to normal operations, said Drew Nystrom, a base public affairs spokesman.
Of the base's 10,000 personnel, the workspaces of about 3,000 are inaccessible.
Water no longer covers the runway, but it cannot return to operation until pending inspections are completed. Key components of the fighter operations have been dispersed to other bases, where they remain ready to deploy if necessary.
"It's going to be a long recovery," Manion said.
All streets south and east of the Offutt Field House were impassible with water reaching roughly 30 buildings including the headquarters facilities of the 55th Wing, 55th Security Forces Squadron, 97th Intelligence Squadron, 343rd Reconnaissance Squadron as well as the Bennie L. Davis Maintenance facility among others.
About 20 Air Force families were displaced from their homes due to the flooding impacting Offutt's surrounding communities.
"Our team worked as rapidly as possible to improve water defenses around critical infrastructure," Manion said.
In addition, portions of the flightline are covered with water and multiple aircraft have been evacuated to other locations.
The main gate was closed due to water crossing the road, so alternate entrances had to be used for cargo and construction traffic.
The 2019 Defenders of Freedom Air & Space Show was cancelled due to flooding that has damaged many buildings on the Southern half of the Air Force Base, but recovery operations are currently underway.
---
Connect with NJTODAY.NET
Join NJTODAY.NET's free Email List to receive occasional updates delivered right to your email address!