Special Counsel Robert Mueller filed a report of his findings in the nearly two-year investigation into Russia's alleged role in the 2016 presidential election with the Attorney General.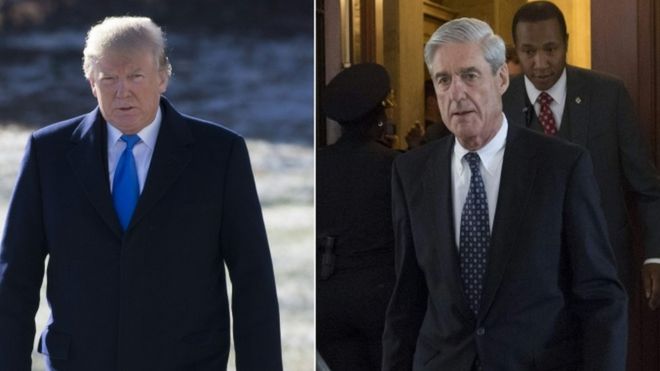 Mueller on Friday turned over his long-awaited final report on the contentious Russia investigation that has cast a dark shadow over Donald Trump's presidency, entangled Trump's family and resulted in criminal charges against some of the president's closest associates.
The investigation has resulted in dozens of indictments for federal crimes, and at least eight guilty pleas or convictions, which have ensnared some of Trump's closest associates.
Attorney Emmet Flood said the White House Counsel's office received notification about the completion of the report at 4:45 p.m.
In May 2017, the special counsel's office took over an FBI probe into Russian election interference that already had been underway for nearly a near. Mueller was appointed in the spring of 2017 by Deputy Attorney General Rod Rosenstein after President Trump fired FBI Director James Comey.
The comprehensive report, still confidential, marks the end of Mueller's probe but sets the stage for big public fights to come, although sources say the report does not call for more indictments.
The next steps are up to Trump's attorney general, to Congress and, in all likelihood, to federal courts.
The Justice Department said Mueller delivered his final report to Attorney General William Barr and officially concluded his probe of Russian election interference and possible coordination with Trump associates.
The report will now be reviewed by Barr, a Trump appointee who said he intends to write his own account of Mueller's findings, which will then be
communicated to Congress and the American public.
Barr notified congressional leaders and ranking members of the House and Senate judiciary committees that he is reviewing the report and expects that he may be able to lawmakers about the principal conclusions as soon as this weekend.
Barr intends to consult with both Mueller and Rosenstein "to determine what other information from the report can be released to Congress and the public consistent with the law."
Democrats running for president on Friday swiftly called on Barr to release special counsel Mueller's report.
Attorney General Barr — release the Mueller report to the American public. Now," Sen. Elizabeth Warren, D-Mass, also wrote in a tweet.
SEE WHAT WE ALREADY KNOW MUELLER'S TEAM ACCOMPLISHED
"The patriotic action for the Attorney General is to release the entire Mueller report to the American people. We paid for it and this moment requires transparency," former Rep. John Delaney, D-Mass., said in a tweet.
Senate Intelligence Committee Vice Chair Mark Warner said, "The Special Counsel's report must be provided to Congress immediately, and the Attorney General should swiftly prepare a declassified version of the report for the public. Nothing short of that will suffice."
Pressure over how to handle Mueller's conclusions is building in the Congress and across the nation.
The Kremlin strongly denies meddling and says it is a victim of American political infighting.
"The American people deserve to know the full truth about Russia's attack on our elections, about financial or other connections between the President and foreign influences, and about any attempted cover up," said Lisa McCormick, one of New Jersey's leading progressive Democrats.
"Misconduct by the president must be exposed," said McCormick. "The entire Special Counsel report must be made public. Nobody is above the law."
McCormick said Trump put children in cages, is seeking to undermine our health care, refuses to acknowledge climate science, embraces white supremacy and stimulates hate, and he is trying to cut Medicare, so the report cannot exonerate the President.
No details of Mr Mueller's report have been released, but it is intended to explain any prosecutorial decisions the special counsel has made in the 22 months since his appointment by Rosenstein.
Trump and his supporters have repeatedly condemned the probe as a partisan "witch hunt" but Mueller, Rosenstein and former FBI Director James Comey are all Republicans.
Investigations at both the state and federal level into various financial and campaign finance violations grind on, not to mention the aggressive oversight coming down the pipe from the Democratic-controlled House of Representatives.
Earlier this month, the House of Representatives voted unanimously for a resolution demanding the Department of Justice to release the full report to the public, signalling support within both parties to find out whether Mr Mueller discovered any criminal wrongdoing.
Speaker of the House of Representatives Nancy Pelosi and Senate Democratic Leader Chuck Schumer also called for transparency in a joint statement, adding that the White House "must not be allowed to interfere" in the process.
"The Special Counsel's investigation focused on questions that go to the integrity of our democracy itself: whether foreign powers corruptly interfered in our elections, and whether unlawful means were used to hinder that investigation," said Pelosi and Schumer. "The American people have a right to the truth."
---
Connect with NJTODAY.NET
Join NJTODAY.NET's free Email List to receive occasional updates delivered right to your email address!