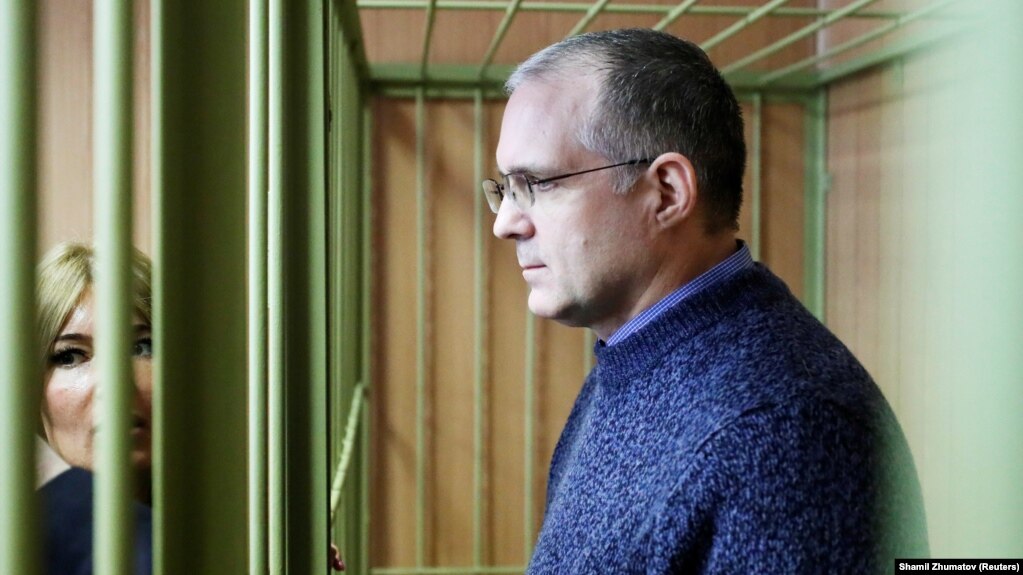 Paul Whelan — a 49-year-old ex-Marine who holds U.S., Irish, Canadian, and British citizenship — was arrested on December 28 in Moscow and President Donald Trump has been powerless to secure even basic legal rights for the man.
Whelan is in his third month of detention in a Moscow prison with no end in sight, according to sources who paint a grim picture of Russia's interference in US efforts to assist him.
For six days after his Dec. 28 arrest, Whelan was held alone in a cell in Moscow's Lefortovo detention facility without access to toilet paper or soap.
He was arrested in Russia on December 28, 2018, and accused of spying, which could result in a 10- to 20-year prison sentence, although he had not been formally charged with any crime.
While the US, Canada, Ireland and the United Kingdom, have been granted some consular access, visits with American Embassy officials have been strictly limited by the Russian government.
US Embassy staff are not allowed to say names out loud or give him anything on paper and Whelan is not allowed to discuss why he's there or details of his case.
US officials have complied with the unusual rules so they don't face further access restrictions.
Whelan is also not allowed any visits from friends or family and he hasn't been given any of the more than 100 letters his relatives have sent to him.
He has been able to send letters home, but they are being read by Russian authorities.
"We urge the Russian government to provide consular officers unrestricted visits with Mr. Whelan, to include discussing his case freely and without obstruction from Russian authorities," said Andrea Kalan, a spokeswoman at the U.S. Embassy in Moscow.
Whelan has never married and was raised in the Ann Arbor area of Michigan where they graduated from Huron High School in 1988.
Whelan is the director of global security for the Auburn Hills-based auto parts supplier BorgWarner. Prior to that, he worked in global security for Troy-based Kelly Services and also served in the Marine Corps, doing two tours of duty in Iraq.
It was during his final tour in Iraq that Whelan was charged with larceny after trying to steal $10,000 and bouncing about $6,000 in checks, according to the Washington Post. 
Whelan also used another person's Social Security number in trying to advance his own rank and pay. He was court-martialed and discharged for bad conduct in 2008. 
Paul Whelan has a twin brother David in Detroit, a brother Andrew in North Carolina, and a sister Elizabeth in Massachusetts.
The jailed American got his bachelor's at Northern Michigan and earned an MBA from an online program at the University of Phoenix.
"We urge the Russian govt to allow Whelan to sign documentation that will allow his family to choose & hire an attorney that best represents his interests," she added.
Russian officials have not released details of the allegations against him but if convicted of spying, he could face up to 20 years in a Russian prison.
His family has said he is innocent and that he was in Moscow to attend a wedding.
Whelan was working as a global security director for a U.S. auto-parts manufacturer at the time of his arrest.
Ryan Fayhee, another lawyer working on Whelan's family's behalf, says the level of obstruction is "exceptional."
"They're investigating him for espionage. The FSB investigator is running the process," Fayhee said. "There have been no formal or public charges. But there's no real way of knowing. It's difficult to know exactly what's going on. If there is some evidence of a crime, we don't know it."
Relations between Russia and the United States have been strained over Russia's alleged interference in the 2016 U.S. presidential election, its seizure and illegal annexation of Ukraine's Crimean Peninsula, and its support for pro-Russia separatists in eastern Ukraine.
Whelan's detainment came weeks after a Russian woman, Maria Butina, pleaded guilty in a U.S. court to acting as an agent for the Kremlin.
The Kremlin has denied that Butina is a Russian agent and has organized a social-media campaign to secure her release.
In the past, Russia has arrested foreigners with the aim of trading prisoners with other countries.
Whelan's lawyer, Vladimir Zherebenkov, has said that his client is innocent and suggested that Russian officials may be trying to use him in an exchange for Butina.
Russian Deputy Foreign Minister Sergei Ryabkov has rejected that scenario.
---
Connect with NJTODAY.NET
Join NJTODAY.NET's free Email List to receive occasional updates delivered right to your email address!