The African American Chamber of Commerce of New Jersey awarded Lieutenant Governor Sheila Y. Oliver with their Political Award at their 9thAnnual Circle of Achievement Awards Gala.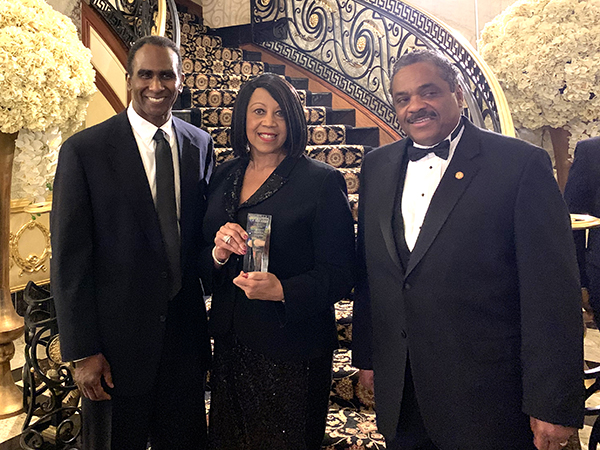 Governor Phil Murphy kicked off the evening with a keynote address after which the award was presented to the Lieutenant Governor by state Senator Ron Rice. 
According to The Chamber, the Political Award is extended to an individual that has exemplified excellence over their career of service. Moreover, their advocacy and representation on behalf of their constituency is professional and without compromise.
"I am so honored to have received this award from such an outstanding organization, especially as we observe Black History Month and the many achievements of African Americans in our communities," said Oliver, who also serves as Commissioner of the Department of Community Affairs (DCA). "The work that the Chamber does to help advance the goals and aspirations of African Americans in this state is beyond compare and I commend them for their important work and thank them for this award." 
"It was our honor to recognize New Jersey's first African American Lieutenant Governor as well as salute her for her enormous contributions to our state," said John E. Harmon, Sr., IOM, Founder, President and Chief Executive Officer of the African American Chamber of Commerce of New Jersey.
Lt. Governor Oliver was joined by three other honorees at the gala: Mr. Donnell Williams, owner of Destiny Realty, received the Community Service Award; Ms. Leecia Eve, Vice President of State Government Affairs for Verizon, received the Corporate Award; and James Reynolds, Jr., Chairman and CEO of Loop Capital, received the Business Award.
Oliver took the oath of office as New Jersey's second Lieutenant Governor in January 2018.
She has served as Speaker of the General Assembly, chaired the New Jersey Assembly Human Services Committee and served as Development Director for the New Jersey Literacy Campaign.
Oliver was one of the founders of the Newark Coalition for Low Income Housing and has also served on the boards of non-profit organizations such as the Global Women's Leadership Collaborative of NJ and the Programs for Parents. She is the first woman of color to serve in a statewide elected office in New Jersey history.
---
Connect with NJTODAY.NET
Join NJTODAY.NET's free Email List to receive occasional updates delivered right to your email address!