President Donald Trump agreed to temporarily end the government shutdown surrendering on his demand for $5.7 billion to build a border wall.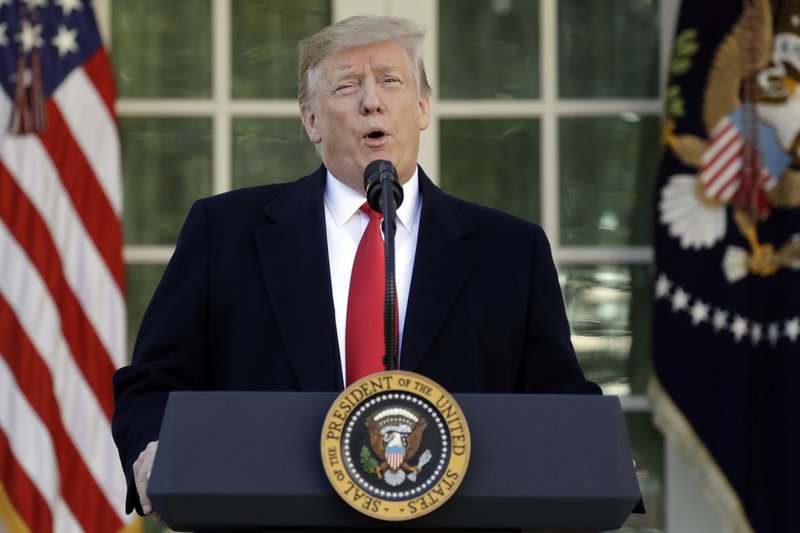 After the five-week funding lapse significantly hobbled government operations and threatened to undermine the economy, Trump said he will sign legislation to reopen shuttered departments for three weeks.
Trump's action would end what has become a record, 35-day partial shutdown but it also sets up another potential deadlock on Feb. 15.
At least 800,000 federal workers have had to work without pay or have been kept from doing their jobs, along with an unknown number of people employed by federal contractors, as Trump was locked in a stalemate with Congress over the billions of dollars that it would cost to build a wall aong the U.S.-Mexico border.
There is no expectation that a wall could stop immigration, legal or otherwise, but the con artistry has not been broken by logic or two years of experience with Trump in the White House, even as the number of the president's political associates ensnared in Special Counsel Bob Mueller's investigation mounts.
"We have reached a deal to end the shutdown and reopen the federal government," Trump said in the Rose Garden at the White House.
Trump spoke at the White House on Friday as intensifying delays at some of the nation's busiest airports and widespread disruptions brought new urgency to efforts to break the impasse.
"We really have no choice but to build a powerful wall or steel barrier," Trump said toward the end of the speech announcing his surrender on the shutdown. "If we don't get a fair deal from Congress, the government will either shut down on Feb. 15, again, or I will use the powers afforded to me under the laws and the Constitution of the United States to address this emergency. We will have great security."
Trump said he could agree to reopen the shuttered parts of government through Feb. 15, a move that will let hundreds of thousands of federal workers finally get paid.
In a video message to employees posted on the Federal Bureau of Investigation's website, FBI Director Christopher Wray says he's "about as angry as I've been in a long, long time."
Wray said the partial government shutdown is "mind-boggling, it's short-sighted, and it's unfair."
Thousands of furloughed IRS employees failed to show up during the shutdown to handle tax returns, answer taxpayers' questions or send out refunds. The tax filing season begins Monday.
Trump promised that taxpayers who are owed hundreds of billions of dollars will see their tax refunds paid on time.
The Federal Aviation Administration reported delays in air travel because of air traffic control staff was depleted, as workers could not continue offering labor without paychecks.
The staffing problems at air traffic control centers not only delayed air traffic but employee unions and administrators have been warning of safety risks associated with the shutdown.
House Speaker Nancy Pelosi called a border wall immoral and other Democrats have said they consider it an ineffective, wasteful monument to a Trump's hateful and bitterly divisive campaign.
The Senate voted down both Democratic and Republican plans for ending the longest-ever government shutdown on Thursday, but bipartisan efforts aimed at resolving the 35-day stalemate possibly worried Trump that Congress would reopen federal agencies without him, to stop the damage it is inflicting around the country.
The White House's surrender amounts to a massive victory for Democrats who have refused the president's demand for $5.7 billion in wall funding.
"It's pretty simple how we got here. In fact, it's all captured on videotape. Last month, Trump told the American people, quote, 'I will take the mantle. I will be the one to shut it down.' End quote," said Congressman Ted Lieu of California. "No President of the United States should ever be proud of shutting down our government. But Trump carried out his threat to shut down government. And he was enabled by Republicans in the House and the Senate."
"This shutdown started during a time of unified Republican control of the federal government: the White House, the Senate, and the House. Democrats inherited this shutdown from Republicans," said Lieu. "And the effects of the Trump Shutdown are severe, harmful, and dangerous. There are some government jobs where we want full staffing and do not want the employee to be tired, stressed out and desperate because one mistake can be fatal."
Speaker Nancy Pelosi told Trump she would not allow him to give the State of the Union address in the House Chamber until government has opened.
---
Connect with NJTODAY.NET
Join NJTODAY.NET's free Email List to receive occasional updates delivered right to your email address!