Tulsi Gabbard announced on January 11, 2019, that she would seek the Democratic nomination for President of the United States in 2020 promising A Bright Future for America if she is elected leader of the free world.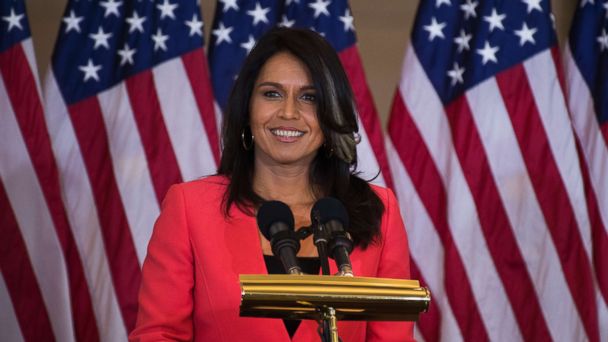 Gabbard has been the U.S. Representative for Hawaii's 2nd congressional district since 2013, and she introduced the Off Fossil Fuels for a Better Future Act to end America's dangerous reliance on fossil fuels and move towards energy independence.
She was also a vice chair of the Democratic National Committee until February 28, 2016, when she resigned to endorse Senator Bernie Sanders for the 2016 presidential nomination.
Elected in 2012, she is the first Samoan American member and the first Hindu member of the United States Congress.
Gabbard, a member of the Hawaii Army National Guard, served in a field medical unit in an Iraq combat zone from 2004 to 2005 and she was later deployed to Kuwait.
She previously served in the Hawaii House of Representatives from 2002 to 2004 the youngest woman to be elected to a U.S. state legislature, when she was elected at age 21.
Gabbard supports abortion rights, opposed the Trans-Pacific Partnership, has called for a restoration of the Glass–Steagall Act, and changed her stance to support same-sex marriage in 2012.
She is critical of aspects of American government policy regarding Iraq, Libya, and Syria, and said she opposed using military force to remove Syrian President Bashar al-Assad from power.
US Rep. John Delaney of Maryland, Senator Elizabeth Warren of Massachusetts, West Virginia state Sen. Richard Ojeda, and entrepreneur Andrew Yang have each previously announced Democratic presidential ambitions. Sanders and former Vice President Joe Biden have not indicated if they will seek the party's nod to challenge Trump for the White House.
Hedge fund billionaire Tom Steyer recently went to Iowa to make the announcement that he will not be a candidate, after spending $20 million on TV ads advocating the impeachment of President Donald Trump.

---
Connect with NJTODAY.NET
Join NJTODAY.NET's free Email List to receive occasional updates delivered right to your email address!