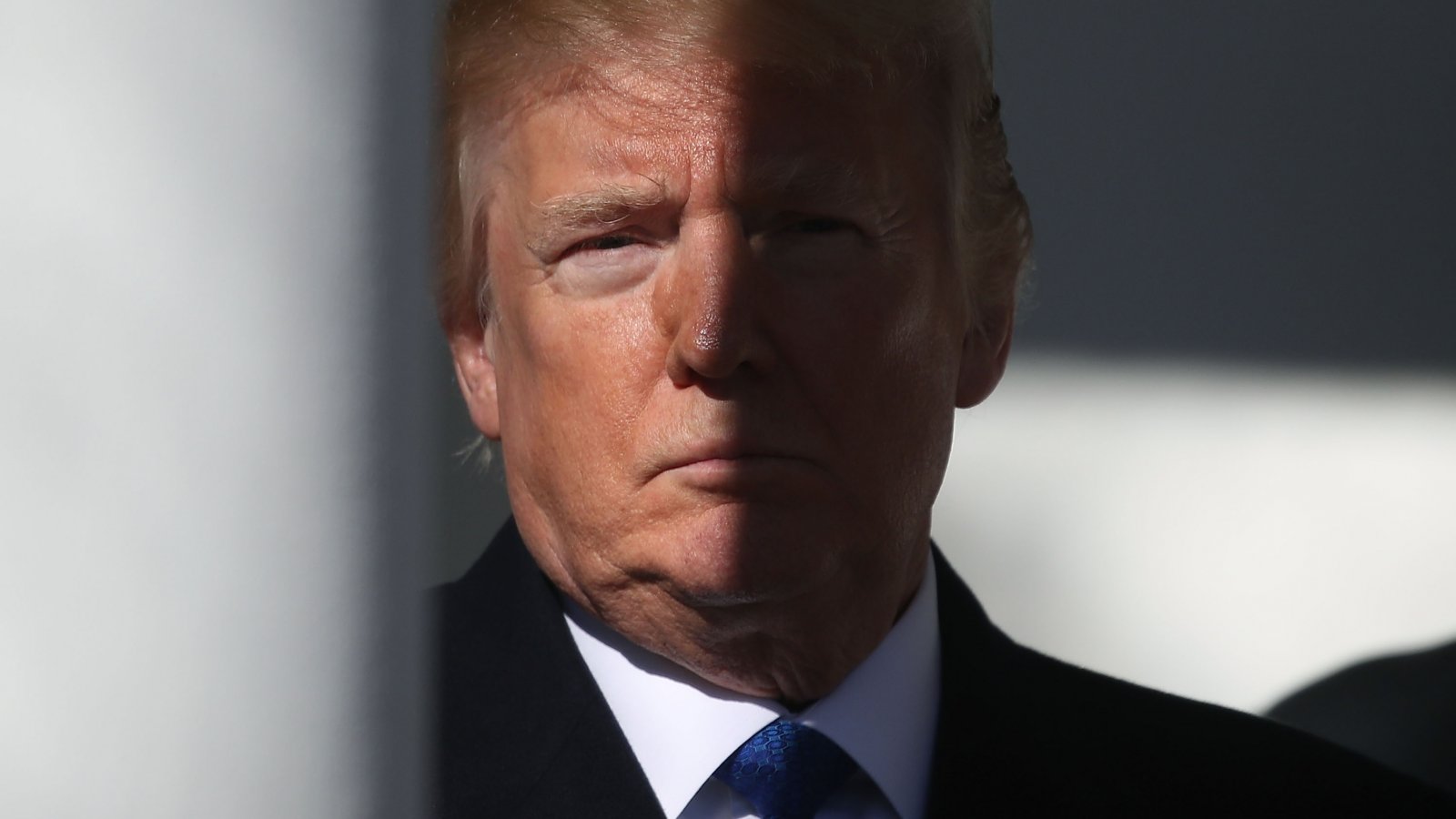 Multiple news outlets independently have confirmed The New York Times' report that President Donald Trump ordered White House Counsel Donald F. McGahn to fire Special Counsel Robert Mueller last June and only backed down after McGahn threatened to resign.
WaPo:
McGahn did not deliver his resignation threat directly to Trump but was serious about his threat to leave, according to a person familiar with the episode.

Trump denied the report Friday when asked about it during the World Economic Forum in Davos, Switzerland.

"Fake news, folks. Fake news," Trump told reporters.
In mid-June, Chris Ruddy, a close Trump friend and Mar-a-Lago member, said after a visit to the White House that he'd overheard discussion about the president considering firing Mueller.

"It could trigger something well beyond anything they ever imagined," he told POLITICO at the time. Later that day, Ruddy told PBS NewsHour anchor Judy Woodruff that Trump was "considering perhaps terminating the special counsel."

Ruddy added during the interview he thought it would be "a very significant mistake" to oust Mueller.
On Friday, Ruddy took an odd victory lap.
"I don't want to get into a pissing match with the White House press shop, but I stand by the comments I made in June that the president was considering firing Robert Mueller," Ruddy told The Daily Beast. "I said at the time that I thought it wasn't a good idea. I thought it was a very bad idea…I had been told by very high-ranking senior White House officials that he was seriously moving in that direction. I was not aware of the position of [Don] McGahn, but it fits into what I had heard."
CNN:
The White House has repeatedly denied that Trump was looking at firing the special counsel. In August, White House lawyer John Dowd told USA Today the idea had "never been on the table."
In fact, CNN has compiled a list of the eight times since June 2017 that the White House has denied reports President Trump wanted to fire Special Counsel Robert Mueller.
As for what it means that this news is now leaking:
"It's one more brick in the wall," said a Washington lawyer representing another senior Trump aide in the Russia probe who added that the most interesting aspect of the Trump-Mueller story to him was that "people are leaking this shit."

"That is a sign to me people perceive this ship has sprung a leak and it's time to make themselves look good," the attorney said. "To some extent I think the fact of the leaking is almost the most significant, that we've reached an inflection point where people at the center of things feel the need to redeem themselves at the expense of the president."
Congressional Democrats are warning that firing Mueller would be unacceptable and should be to their Republican colleagues as well.
U.S. Sen. Mark R. Warner (D-VA), the ranking Democrat on the Senate Select Committee on Intelligence, which has investigated Russian collusion, said that firing Mueller would be a "red line that the President cannot cross."

"Any attempt to remove the Special Counsel, pardon key witnesses, or otherwise interfere in the investigation, would be a gross abuse of power, and all members of Congress, from both parties, have a responsibility to our Constitution and to our country to make that clear immediately."
Representative Adam Schiff (D-CA), ranking Democrat on the House Intelligence Committee, issued the following statement:
"The reports that the President not only considered firing Special Counsel Mueller, but went so far as to order it, demonstrate the Nixonian lengths this President is prepared to go to protect himself. Congress must make clear that any effort to remove the Special Counsel or impede his work would touch off a constitutional crisis which would imperil this Presidency and do grave damage to our nation.

"Yet instead of protecting Mueller's investigation from undue interference, many Republicans in Congress have stepped up their spurious attacks against the Department of Justice, the FBI, and the Special Counsel. It is time for them to put country and rule of law before party."
WaPo:
Democrats late Thursday renewed their calls for Congress to pass legislation to protect Mueller and future special counsels from being fired by the president. At least two such bills have been introduced in recent months by members of both parties.

(…)

Sen. Richard Blumenthal (D-Conn.), a former state attorney general, described Trump's attempt to oust Mueller as "remarkable and stunning," adding in an interview, "it shows the need immediately to protect the special counsel."

Republican Rep. Charlie Dent (Pa.) said in an interview that McGahn "prevented an Archibald Cox moment," referring to the special prosecutor ordered fired by President Richard M. Nixon during the Watergate investigation.
Blumenthal was an early supporter last year of a bipartisan bill from Sens. Cory Booker (D-N.J.) and Lindsey Graham (R-S.C.) that would require a judge to approve a Justice Department request to fire Mueller or any other special counsel. Any appeal of the decision would go to the Supreme Court.

(…)

Several bills aimed at protecting Mueller or another special counsel have been filed in the Senate, but none have made it to the floor for a vote.
Senate Judiciary Committee Chairman Chuck Grassley (R-IA), in an interview with CNN Friday, urged the President to let the Russia investigation continue unobstructed, "adding that he was 'open' to considering bipartisan legislation aimed at protecting the special counsel."
"I just don't think the President — as unpredictable as he is — would fire Mueller, and I take the view, and I said so maybe not directly to the President, but indirectly to the President: Just let this work its course," Grassley said.

Asked if he would be OK if Trump fired Mueller, Grassley said: "Heavens no."
CNN separately asked three of President Trump's Cabinet secretaries traveling with the president for their reaction to the news that Trump had ordered Mueller fired.
"I know nothing about that," Secretary of State Rex Tillerson told CNN while overseas with the President for the World Economic Forum in Davos.

(…)

Commerce Secretary Wilbur Ross also denied that the special counsel's probe is a distraction at the forum.

"Oh, you'll see. Nothing is going to change. The President is in very good spirits," Ross told CNN.

(…)

Treasury Secretary Steven Mnuchin told CNN he's "not concerned" about the reports.
---
Connect with NJTODAY.NET
Join NJTODAY.NET's free Email List to receive occasional updates delivered right to your email address!