Dealer and accomplice indicted in investigation led by the New Jersey State Police that resulted in the seizure of more than 23,000 counterfeit DVDs and CDs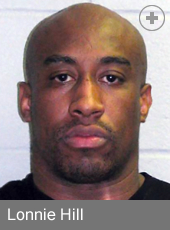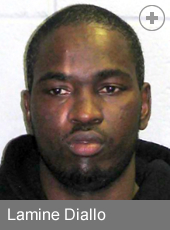 TRENTON – Acting Attorney General John J. Hoffman announced that two men were indicted today on charges they conspired to sell thousands of counterfeited DVD movies and music CDs out of a storehouse in Newark. Over 23,000 pirated discs were seized during a raid on the illegal enterprise.
The Division of Criminal Justice Specialized Crimes Bureau obtained a state grand jury indictment charging Lonnie Hill, 37, of Newark, and Lamine Diallo, 32, of Bronx, N.Y., with second-degree conspiracy, second-degree counterfeiting trademarks, and third-degree pirating recordings. Those counterfeiting and pirating charges relate to the counterfeit DVDs. Hill also is charged with second-degree counterfeiting trademarks and third-degree pirating recordings related to the counterfeit music CDs, and he faces a third-degree charge of illegally possessing 60 tubes of prescription testosterone gel.
The indictment stems from an investigation by the New Jersey State Police Cargo Theft Unit and the Division of Criminal Justice, conducted in partnership with the Recording Industry Association of America. The New Jersey Department of Treasury's Office of Criminal Investigation also assisted. Detectives and investigators from the partnering agencies executed a search warrant on Jan. 27, 2012 at 186 Market Street in Newark, seizing over 23,000 pirated DVDs and CDs and arresting Hill and Diallo. Diallo was arrested as he arrived at the address in an SUV carrying nearly 2,000 counterfeit DVDs.
It is alleged that Hill was a major dealer of pirated DVDs and CDs who sold the illegal recordings out of the third floor of the Market Street building. The entire floor of the brick building was filled with boxes containing pirated discs, including movies newly released to the theaters.
The location allegedly served as a distribution hub to street vendors who purchased the discs at a discount and resold them to the public. Street vendors and other customers who knew of the illegal operation could come to browse through the titles, and Hill employed a number of workers at the location. The third floor was accessible only after being buzzed in through a video-monitored door. Diallo allegedly assisted Hill in the illicit enterprise, delivering thousands of counterfeited DVDs and CDs to the location on a weekly basis.
"The pirating and wholesale distribution of counterfeit DVDs and CDs is a major criminal industry that causes tremendous economic harm," said Acting Attorney General Hoffman. "Given the financial incentives for criminals to sell these illicit products, we must present them with a powerful disincentive in the form of a lengthy prison sentence. These two defendants face up to 10 years in state prison if convicted."
"This was one of the biggest seizures of pirated movies and music in New Jersey in recent years," said Director Elie Honig of the Division of Criminal Justice. "We'll continue to work with the State Police and the industry to stop these counterfeiters from churning out more discs and illegal profits."
"This cooperative investigation led to the arrest of two individuals and took thousands of copies of counterfeit materials out of circulation, shutting down a major distribution hub," said Colonel Rick Fuentes, Superintendent of the New Jersey State Police. "I want to commend the detectives of the Cargo Theft Unit and partnering agencies for dismantling this criminal network."
"The illegal distribution of entertainment content is no petty theft – it robs states of important tax revenues that would otherwise result from legitimate music sales, hurts legitimate music businesses large and small and takes away those jobs, and cheats artists and other music creators out of hard-earned dollars," said Marcus Cohen, Vice President for Anti-Piracy Investigations, Recording Industry of America. "We appreciate the hard work of the New Jersey State Police and the Office of the Attorney General in New Jersey and their efforts to bring to justice those involved in this illegal activity."
The movies seized by authorities during the 2012 raid included War Horse, Sherlock Holmes, Underworld Awakening and Contraband, which were being shown in theaters across the U.S. at the time. Initial estimates valued all of the discs at more than $200,000.
Second-degree crimes carry a sentence of five to 10 years in state prison and a fine of up to $150,000, while third-degree crimes carry a sentence of three to five years in prison and a fine of up to $15,000. The indictment is merely an accusation and the defendants are presumed innocent until proven guilty.
The indictment was handed up to Superior Court Judge Mary C. Jacobson in Mercer County, who assigned the case to Essex County, where the defendants will be ordered to appear in court for arraignment at a later date.
Deputy Attorney General Debra Conrad, Senior Counsel in the Specialized Crimes Bureau, presented the case to the state grand jury. The New Jersey State Police Cargo Theft Unit led the investigation.
---
Connect with NJTODAY.NET
Join NJTODAY.NET's free Email List to receive occasional updates delivered right to your email address!